Agate Birthstone and Great Things It Has to Offer to Aquarius and Gemini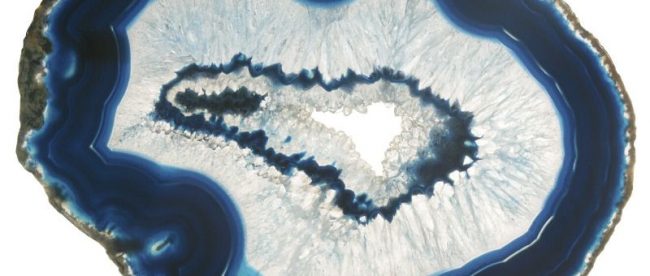 This gemstone has been used for thousands of years. They were worn by people because of its attractive quality. Nowadays, Agate is used as beads, cabochons, bookends, and small sculptures. Some varieties of this stone can be used as marble. The cabochons are refined into earrings, pendants, rings, and other forms of jewelry.
Are you interested in a particular topic about this birthstone? Then use the table of contents below to jump to the most relevant section. And you can always go back by clicking on the black arrow in the right bottom corner of the page. Also, please note that some of the links in this article may be affiliate links. For more details, check the Disclosure section at the bottom of the page. 
What's Agate?
Agate is a translucent gemstone. It is one of the varieties of microcrystalline quartz. The gem is employed as a semiprecious stone, but this can only happen if the quality and color are desirable. The formation of this birthstone is caused by depositing silica from groundwater into cavities of igneous rocks.
The gemstone is formed in concentric strata around the hollow walls. They can also develop in horizontal layers at the bottom of the pit. The banded pattern seen in most agates is as a result of the structure in which they are formed.

What Color is Agate?
Agate birthstones have different varieties of colors. Some of the known shades of Agate are brown, red, pink, white, black, grey, and yellow. The different colors seen are a result of the impurities contained in the birthstone, and they occur as alternating stripes in the gemstone.
The colors are produced as groundwater with different components seep into the cavity. The various bands within the cavity are caused by the change in the chemistry of the water. These stripes are the cause of the attractive patterns and colors that Agate has.  


What birthstone is Agate?
September is the mystical birth month for Agate. Agate is also the birthstone for the Gemini Zodiac sign. January, June, and July babies can also use this as their birthstone. Those born within May 21 and June 21 can adopt this as their birthstone since Gemini falls into May.

Agate birthstone meaning
This mineral rock is a symbol of balance and harmony. This is the heart of the agate properties. It means all the agate stones have this primary property.
Agate stones vibrate at a slower rate and are less intense than many of the high-frequency quartz stones. The less vibration produced means that the birthstone depicts stability. Therefore, it provides a balance between positivity and negativity.

Moss Agate healing properties
Moss Agate is considered to be a stone of abundance. Agriculturists used this gemstone to promote the growth of their crops and to increase their overall health. It is also used as a stone of wealth and for attracting good fortune. 
In the past, it was also used by midwives to ease the pain for women during delivery. It is meant for new beginnings. You can also use this stone to boost your physical strength.
It produces energy that helps those who are unstable and shaky. It increases persistence, concentration, and endurance, which aids those undergoing physical therapy or body-building programs.
Moss Agate can be used as a cleansing crystal, physicians utilize this gemstone in detoxification of the body. Friendships and love are rekindled, and new love could be attracted to Moss Agate too. 

Pink Agate meaning
Pink Agate is used to chasing away bad energy and neutralize anger. You can repel negativity by keeping this stone around you. It also sparks up passion in a relationship and motivates you to accomplish your goals.


Black Agate healing properties
Black Agate serves as a protective crystal. It believed to bring peace to those who are grieving. The gemstone also generates an inner strength for you to move on. It keeps your mind steady when you get to make tough decisions.


Agate birthstone for May-born Gemini
Astrologers identify Agate as a Gemini birthstone since it falls within May. Agate is considered to be a May birthstone before Gemini runs from May 21 to June 21. This sign's personality traits include intelligence, flexibility, and enthusiasm. And a stone's attributed ability to sparks up owners passion in a relationship and work-life definitely something the Gemini can take advantage of. 

Agate birthstone for Aquarius
The sun is in this sign between January 21 and February 20. Aquarius borns are known to use Agate gemstone as their birthstone. They exhibit open-mindedness, humaneness, and creativity. And Agate is known to be beneficial in making all these qualities pop.

Agate birthstone jewelry
Agate birthstone earrings 
[content-egg module=Amazon template=item product="us-B01MA5NG1D" disable_features=1 ]
These artisan-crafted earrings feature quite big green agates (total weight of 4.5 ct). Those are made with silver but have an antiqued-finish to it, adding up some sort of intrigue to the piece.
Were those belong to your grand-grandma, or maybe you are a friend with a hopelessly in-love archeologist who snatched these for you in one of his recent expeditions? 

The size of the earrings is 1.5*1 inches, so they are big enough to be noticed but also are not too heavy for comfortable wear. And of course, all the benefits of Agate as a birthstone will come along too.
How about some purifying energy that will keep you going even after the hardest days when you are feeling exhausted and fatigued? Agate's power can be a possible solution in that case. 
Agate birthstone necklace
[content-egg module=Amazon template=item product="us-B017AQ8YPY" disable_features=1 ]
I absolutely love this very unusual carved pendant. It's made with red Agate and comes with two sturdy woven fiber strings (adjustable – 20-30 inches) and a beautiful brocade box. Craftsmanship and polish are exquisite. And the little fox (it's about 1.6 inches long) itself can be a great conversation starter. Great design, excellent quality, and price wears comfortably and comes with all the benefits of red agate birthstone. Perfect lucky talisman. 
Agate birthstone ring
[content-egg module=Amazon template=item product="us-B073J2CY7Q" disable_features=1 ]
Those are very cute, contemporary and minimalistic agate stackable rings. It's hypoallergenic and polished to the point where you never have a risk of its catching against your clothes. It stays put and doesn't stretch out. It comes in a variety of sizes and widths, depending on it (from 0.25 to 0.4 inches). A beautiful way to harness the power of Agate birthstone. 
Blue lace agate necklace
[content-egg module=Amazon template=item product="us-B004WXGTUG" disable_features=1 ]
Lovely little pointer necklace. It comes with an adjustable cord. And you can regulate its length from 17 to 24 inches. But it's always great to keep it shorter. Thus it will be closer to your throat chakra, and blue color is associated with this energy center. Just something to keep in mind. A sturdy box also comes along with the piece. The cut of the pendant itself is flawless. It's not small but not bulky (about 1.5 inches). Pretty much perfect for everyday use. 
Black Agate birthstone bracelet 
Pretty little bracelets perfect to wear as it is or combine with another crystal strings for an extra gem power kick. Since it's stretchy, it fits wrists of various sizes – from 6 to 7 inches.
Aquarius and Gemini, in particular, will definitely appreciate this Black agate piece as the gem believed to influence people born under those signs. It's known for its protective and soothing energy, enhancing creativity and even bringing good luck. 
Check more reviews for this (and many others) crystal bracelet here.
Thanks for the blog graphics: Canva.com

Disclosure: At Buddhatooth.com we only mention the products that we've researched and considered worthy. But it's important to note that we are a participant of several affiliate programs, including but not limited to VigLink and Amazon Services LLC Associates Program, an affiliate advertising program designed to provide a mean for us to earn fees by linking to Amazon.com and affiliated sites. As an Amazon Associate Buddhatooth.com earns from qualifying purchases.