Bloodstone Birthstone: How Can It Protect Pisces and Aries?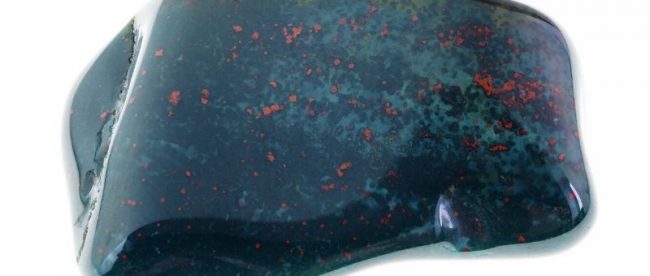 The Bloodstone, also known by a few other names, e.g., Sun stone and the Christ stone. It has been valued throughout history for its protective and healing properties.
The protective qualities of this stone were once thought to be so strong that ancient soldiers would have amulets made from this stone to wear into battle. But let's see what this gem has to offer as a birthstone. Especially to those of us who don't have to fight at war. 
Are you interested in a particular topic about this birthstone? Then use the table of contents below to jump to the most relevant section. And you can always go back by clicking on the black arrow in the right bottom corner of the page. Also, please note that some of the links in this article may be affiliate links. For more details, check the Disclosure section at the bottom of the page. 
What is Bloodstone?
Bloodstone is a heliotrope, a variety of Jasper. The gem is valued as being able to restore and rebuild the mind and body. In ancient times the Bloodstone was considered to a semi-precious gemstone. It was in high demand by people in power or those seeking power. 
[content-egg module=Amazon template=custom/image product="us-B07WT9G8PB"]

Where is Bloodstone found?
Small deposits of Bloodstone are found in various places all over the world. Bloodstones form at shallow depths, so mining them is much easier than mining for other gemstones. The most modern Bloodstone comes from India. But this stone can also be found in Central Europe, the Middle East, Australia, The Isle of Rum in Scotland, China, Brazil, and Madagascar. 
Small deposits of Bloodstone were also discovered in the United States in California, Nevada, Oregon, and Washington. 


What color is the Bloodstone stone?
[content-egg module=Amazon template=custom/image product="us-B07SWSWT3C"]
Bloodstones are green in color with red dots or streaks caused by hematite. Most of these stones also have spots of white, yellow, orange, or brown mixed in as well. However, it is the deep dark green with only red streaks that are the most prized and most in demand. 


What birthstone is Bloodstone?
The Bloodstone is known to be connected with Aries. People born between March 21 and April 19 can legitimately claim the Bloodstone for their birthstone. It has a special bond with March-born Pisces, as well. 

What is Bloodstone birthstone meaning?
Throughout the ages, the Bloodstone has had different meanings, and even today, this beautiful stone means different things to different people. For some, it offers protection, while others depend on its healing powers.
To others, it means a willingness to sacrifice. But, the birthstone meaning of the Bloodstone is one of courage and physical and mental strength even in times of adversity. 

Bloodstone metaphysical properties
Bloodstone has strong metaphysical properties, and therefore, it is good to keep one of these stones in a place that needs to have its energy cleansed. Bloodstone will remove energy blockages allowing for smooth and continual energy to flow through the body.
It cleanses the lower chakras realigning your energy and believed to offer purifying effects to the blood and detoxing the liver, kidney, and spleen. 

Bloodstone healing properties
The Bloodstone provides various healing properties for the mind, body, and spirit. It helps you to become more self-aware and clarifies your thought processes.
It also deters feelings of anger or rage. It strengthens your bond with the family and loved ones while also enhancing your motivation to achieve the goals you are pursuing. 
Ancient healers used Bloodstone to clear blood disorders and strengthens the immune system. 

Pisces and Bloodstone
Although it's not the most essential birthstone for this sign, Pieces still can benefit from it greatly. People born under this sign tend to be more interested in the spiritual world rather than in the materialistic one.
The Bloodstone helps Pieces by bringing a more realistic perspective to their abstract and somewhat confusing thought processes.


Bloodstone birthstone for Aries
The Bloodstone is the ancient birthstone for Aries and supports their positive nature and energy. This stone aids an Aries in his sense of self-belief and leadership qualities while giving courage and physical strength to achieve whatever goal the owner has in mind.  

Bloodstone jewelry
Bloodstone pendant
[content-egg module=Amazon template=item product="us-B07N81RBBW" disable_features=1 ]
This incredible little bloodstone pendant comes from a very dedicated store. So the owners tend to take their crystals seriously and make sure that the bloodstone for each necklace is carefully selected for its size, shape, and coloring.
A silver-toned chain or leather cord also comes with the pedant. It's comfortable and lightweight enough for everyday use. So you can wear this item right away and switch to your favorite chain later. 

Bloodstone jewelry for men: unisex ring
[content-egg module=Amazon template=item product="us-B07D6T91LN" disable_features=1 ]
Lovely solid Bloodstone ring. Looks great both on male and female finger. And comes in many sizes. In case you would like to buy one of those, you can contact the designer and request your specific size, and the seller will take care of it.
Not only the ring is classy and overall gorgeous – last but not least – you'll get to enjoy all the benefits of bloodstone birthstone. Struggling with anxieties or stress or feeling uncertainty? This stone can be your best friend to fight those feelings.

Bloodstone earrings
[content-egg module=Amazon template=item product="us-B01CTGS504″ disable_features=1 ]
These gorgeous earrings are created by talented Indian designer Alok Jain (and by the way, even royalties are amongst the fans of his work, for instance, the Sultan of Brunei).
The name of this piece is "Moon of Justice." So it's not just another pair of stunning earrings but a real conversational piece. On top of it, they are well-crafted and suitable for everyday wear (or at least as long as you are willing to hear compliments about them). 
Bloodstone bracelet 
[content-egg module=Amazon template=item product="us-B00QSN6OHG" disable_features=1 ]
Pretty little bracelets perfect to wear as it is or combine with another crystal string bracelets for an extra gem power kick. Aries and Pisces will definitely appreciate this bloodstone piece as the gem believed to protect people born under those signs.
And also enhance their courage to achieve all the daily goals in owners' ambitious endeavors. Some crystal practitioners also use this stone to manifest wealth. So there's hardly anything you might not like about this birthstone bracelet. 

Thanks for the cover photos: Canva.com

Disclosure: At Buddhatooth.com we only mention the products that we've researched and considered worthy. But it's important to note that we are a participant of several affiliate programs, including but not limited to VigLink and Amazon Services LLC Associates Program, an affiliate advertising program designed to provide a mean for us to earn fees by linking to Amazon.com and affiliated sites. As an Amazon Associate Buddhatooth.com earns from qualifying purchases.