Chrysoprase Birthstone: What Gifts Has the Stone of Venus to Give?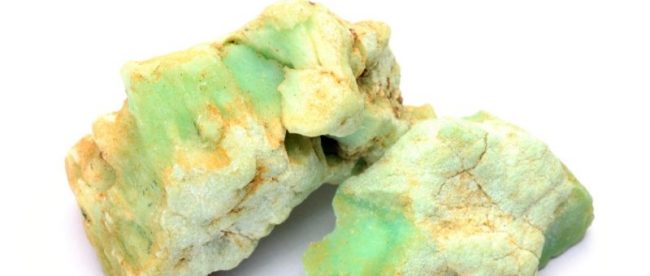 Chrysoprase is a minor gemstone that was used by the Greeks and Romans to make seals, signets, and jewelry. The name Chrysoprase comes from the word chryso, meaning "gold" and Prase meaning "green."
Are you interested in a particular topic about this birthstone? Then use the table of contents below to jump to the most relevant section. And you can always go back by clicking on the black arrow in the right bottom corner of the page. Also, please note that some of the links in this article may be affiliate links. For more details, check the Disclosure section at the bottom of the page. 
What is Chrysoprase?
Chrysoprase is a gemstone variety of chalcedony that contains small qualities of nickel impurities that gives this stone its unique color. It is believed to be the rarest variety of chalcedony.

What color is Chrysoprase birthstone?
Chrysoprase crystals from Amazon
The birthstone Chrysoprase runs in color from minty light spring green to a bright apple green. The darker the stone, the more sought after and valuable it is considered to be.


Where is Chrysoprase found?
Chrysoprase is found in various spots all over the world. Some of the highest quality of these stones are being found in Australia. Other places where this stone is found include Brazil, Germany, Poland, Russia, South Africa, Madagascar as well as several other countries, including the United States (Arizona, California, and Oregon).


What birthstone is Chrysoprase?
Chrysoprase is a modern-day birthstone for May and an ancient Russian birthstone for December. It is also the planetary birthstone for Gemini, which falls partly in May as well as Taurus and Libra.

Chrysoprase birthstone meaning
Chrysoprase's birthstone meaning is that of divine truth, optimism, joy, happiness, and forgiveness. Once considered to be the stone of Venus, Chrysoprase is said to put out relaxing vibes and help build self-esteem. This stone is also thought to open up or energize the heart and sacral chakras and allow you to achieve a deep meditative state.
This stone is believed to promote love, forgiveness, and compassion by helping you achieve a high level of self-esteem. This stone is said to help you overcome angry thoughts and heal your codependence. Many believe that Chrysoprase can help you turn your negative thoughts into positive ones.


Chrysoprase Healing Properties
Chrysoprase studs from Amazon
Chrysoprase is a stone that offers powerful healing properties, both emotional and physical.  
It's believed to heal the inner child and release prolonged locked-in feelings and emotions.  It is also believed to heal any wound, and when placed by a sickbed, helps to relieve the illness.
It is thought that this stone can help you eliminate body waste, get more peaceful sleep, and even reduce claustrophobia. 


Chrysoprase as Gemini birthstone
Chrysoprase palm stone from Amazon
It is believed that Chrysoprase, as Gemini's birthstone, can help to stabilize emotions, staving off depression, and improving the owner's mood.
It is thought that this stone helps promote growth, love, and forgiveness and make it easier for the Gemini to accept change. It can help to bring a state of harmony and empathy.
It is also believed to help the Gemini achieve clarity of thought, helping people born under this sign make better decisions.
It is also thought that this stone can help Gemini find love by assisting them to release negative feelings about past relationships. And helping them achieve belief in themselves and their own self-worth. 

Chrysoprase jewelry
Chrysoprase necklace
[content-egg module=Amazon template=item product="us-B07G5Z264N" disable_features=1 ]
This necklace is gorgeous! The pedant has very nice details, the craftsmanship is top-notch. It's shaped like a beetle with a chrysoprase body and black cubic zirconia eyes.
It also has some weight to it, and the size is quite perfect too (0.68 inches X 0.78 inches). Overall value reportedly is way more than you would expect, considering the price. 
Chrysoprase earrings
[content-egg module=Amazon template=item product="us-B019PC24NE" disable_features=1 ]
These small (4mm) handmade Chrysoprase silver studs are dainty and cute. And even though they are tiny, the piece has proven to attract compliments. The pair works well even for those with sensitive skin and comfortable for daily wear. So you won't miss a day without Chrysoprase's birthstone soothing energy. 
Chrysoprase bracelet
[content-egg module=Amazon template=item product="us-B01DUC6BCK" disable_features=1 ]
Each of those gorgeous bracelets is unique since it's made of natural Chrysoprase. Hence, every single stone slightly differs in shape and color. Crystals coming from this designer tend to be of consistently good quality. And all of the stones used are polished beautiful too. Great little find, especially for Gemini, Taurus, and Libra.
Chrysoprase ring
[content-egg module=Amazon template=item product="us-B00KLHJ4BS" disable_features=1 ]
Another beautiful birthstone piece. Chrysoprase, also known as the Venus crystal, believed to bring optimism and happiness to the owner. And with this ring, the wearer will surely get all the benefits of this birthstone.
The gem itself is quite large: 0.43 inches X 0.86 inches. The color is exactly what you might expect from aventurine – that dreamy green. The setting is very comfortable, so you can wear it practically every day. Gorgeous ring! 

Thanks for the blog graphics: Canva.com

Disclosure: At Buddhatooth.com we only mention the products that we've researched and considered worthy. But it's important to note that we are a participant of several affiliate programs, including but not limited to VigLink and Amazon Services LLC Associates Program, an affiliate advertising program designed to provide a mean for us to earn fees by linking to Amazon.com and affiliated sites. As an Amazon Associate Buddhatooth.com earns from qualifying purchases.