Jasper Birthstone: Peace, Patience, and Understanding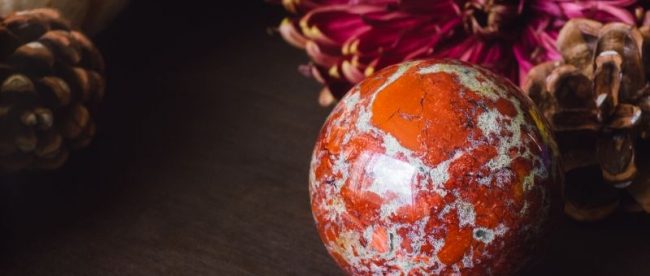 The name Jasper means spotted stone. It was a favorite gemstone during ancient times and can be traced back to Greek, Hebrew, Latin, and Persian literature. This stone comes in a variety of shades and, more often, is multicolored.
Are you interested in a particular topic about this birthstone? Then use the table of contents below to jump to the most relevant section. And you can always go back by clicking on the black arrow in the right bottom corner of the page. Also, please note that some of the links in this article may be affiliate links. For more details, check the Disclosure section at the bottom of the page. 
What is Jasper?
Jasper is an opaque variety of Chalcedony that comes in a variety of different colors, including brown, yellow, red, blue, white, green, orange, gray, and black. One variety of Jasper called ocean Jasper is only mined from Madagascar.

What color is the Jasper birthstone?
Although Jasper comes in a variety of different colors as a birthstone, it is traditionally red. Although Pieces also influenced by an ocean Jasper and Virgos have both red and yellow Jasper as one of their birthstones. The red birthstone, like all types of Jasper, usually has other colors mixed in sometimes in lines and at other times in spots.


What month is Jasper the birthstone for?
Jasper is the traditional March birthstone and also one of the birthstones for Virgo. The ocean Jasper is the birthstone for Pieces. Also, Jasper is considered to be the planetary stone for Aries. Yellow Jasper is a talisman stone for Aquarius, bringing them good luck. While Virgo is also influenced by the yellow Jasper as well.

Jasper birthstone meaning
Jasper, as a birthstone, helps those who claim this stone as their birthstone reach a feeling of peace, understanding, and patience. Known as the nurturing stone Jasper helps rid one of the irrational fears, and find a sense of inner grounding. 

Jasper healing properties
Jasper is known for its many healing properties. It helps relieve anxiety, arthritis, and hypothyroidism. This gemstone also believed to support the wearer during times of stress, absorb negative energy, and re-energize the body. 

Jasper birthstone for Aries
Jasper is the planetary birthstone for Aries, helping them to find stability. This stone will also help Aries carry out with those short term goals, that they have a tendency to leave incomplete. Red Jasper also helps the Aries to express his identity and brings out their passion, determination, and ambition leading some to do great things. 
Check more gems for this sign in our guide about Aries birthstones.


Jasper birthstone for Pieces
The ocean Jasper is one of the birthstones for Pieces helping them to achieve a clearer view of their spiritual capabilities.
When this stone is worn by Pieces, it helps to induce a state of calm and allows them to concentrate on their own welfare and focus on their protection potential.
Ocean Jasper also helps the Pieces to become more responsible over their day to day actions and activities.
Check more gems for this sign in our guide about Pisces birthstones.


Virgo and Jasper as a birthstone
Two different colors of Jasper work as a birthstone for Virgo. The yellow Jasper helps Virgo with their mental acuity providing them with better attention to detail and concentration.
The red Jasper helps Virgo to find inner harmony helping them become comfortable in their own bodies. It also helps to cultivate humility and discipline in Virgo.
 And you can learn more about this sign in our guide dedicated to Virgo birthstones.  

Jasper jewelry
Jasper necklace
[content-egg module=Amazon template=item product="us-B004WXGTYW" disable_features=1 ]
Very simple yet amazing point-pendant necklace. The crystal itself is quite large – 1.5 inches long. And the chain that comes along is adjustable – from 17 to 24 inches. So the piece can be worn with various outfits and necklines. The crystal itself looks great, it's flawless and shiny.
This particular type of Jasper called Dragon Blood. The name comes from China. Ancient Chinese believed this gem was originated from dragons and could protect the owner from evil intentions and bring luck. 
Jasper earrings
[content-egg module=Amazon template=item product="us-B07FTTXXRV" disable_features=1 ]
These dainty little earrings are made of silver and feature a precious red Jasper, strong protector, and great empowering birthstone. The length of those is about 1.14 inches. And they are pretty lightweight, which makes it a very comfortable pair to wear. 

Jasper bracelet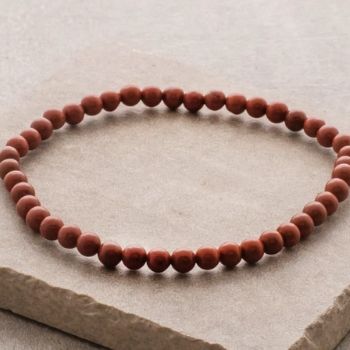 This pretty bracelet is perfect to wear as it is or combined with another crystal string bracelets for an extra gem power kick. Pisces, Virgos, Aries will definitely appreciate this Red Jasper piece.
This stone believed to inspire a joyful attitude to life and boost owners' energy for consistent creative actions on the way of achieving the set goals. Those are also very comfortable to wear for both men and women and pretty much perfect for wrists from 6 to 7 inches. 

This bracelet is available at Sivana, an awesome spiritual gear store. And the founders were super nice to offer a 30% discount to my readers. To activate the offer you can use the code BUDDHATOOTH at the checkout.
Thanks for the cover photos: Canva.com

Disclosure: At Buddhatooth.com we only mention the products that we've researched and considered worthy. But it's important to note that we are a participant of several affiliate programs, including but not limited to VigLink and Amazon Services LLC Associates Program, an affiliate advertising program designed to provide a mean for us to earn fees by linking to Amazon.com and affiliated sites. As an Amazon Associate Buddhatooth.com earns from qualifying purchases.