Snowflake Obsidian & How to Use This Crystal for Protection?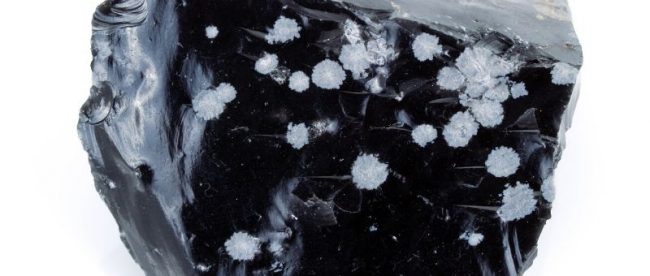 A shining black stone with snowflake-like white or gray impurities, the snowflake obsidian is a stone of beauty that draws people to it.

Are you interested in a particular topic about snowflake obsidian? Then use the table of contents below to jump to the most relevant section. And you can always go back by clicking on the black arrow in the right bottom corner of the page. Also, please note that some of the links in this article may be affiliate links. For more details, check the Disclosure section at the bottom of the page. 
What is snowflake obsidian?
[content-egg module=Amazon template=custom/image product="us-B00U18SSGE"]
Snowflake obsidian tumble stone from Amazon
Snowflake obsidian is black obsidian with white or gray sports caused by what is often called spherulites. Those are composed of needle-shaped cristobalite (a type of quartz). Just like snowflakes, this stone is named after no 2 snowflake obsidian stones are alike.

Where is snowflake obsidian found?
Snowflake obsidian forms in areas where there is past or present volcanic activity. It is found in many regions throughout the world. Some of them are Argentia, Armenia, Australia, Canada, Chile, El Salvador, Greece, Italy, Mexico, New Zealand, Scotland, Turkey, and various parts of the United States.


How is snowflake obsidian formed?
Snowflake obsidian is born of felsic lava from a volcano that rapidly cools down with mineral crystal growth. Pure obsidian usually is black. And snowflake obsidian is black obsidian in which cristobalite impurities. Those are leaving behind white or grayish spots in the stone after it cools.

How much is snowflake obsidian worth?
While snowflake obsidian is a beautiful glass-like stone that is lovely to look and wear as jewelry. In terms of material value, these stones are not considered very valuable. In fact, some cut and polished snowflake obsidian can be purchased for less than $10.00.
However, to those who own snowflake obsidian for their healing or metaphysical properties, their individual stones are beyond worth.

Snowflake obsidian meaning
Snowflake obsidian is believed to be a crystal of purity. It symbolizes the need to clear the body, heart, mind, and spirit of toxins. This stone allows for the free flow of positive energy, and it is thought to be a symbol of quiet grace. It is both calming and protective.
This stone is believed to be able to heal some physical issues, help you achieve a calm and loving state of mind, and protect you from negative emotions and spirits and help you feel safe and in releasing those negative emotions.

Snowflake obsidian metaphysical properties
[content-egg module=Amazon template=custom/image product="us-B003TTABPS"]
Snowflake obsidian palm stone from Amazon
It is believed that that snowflake obsidian can release the bonds over thoughts and behaviors that are no longer useful to the individual. It is thought that this stone stimulates visions during meditation allowing the user to see both the future and deep within themselves.
The snowflake obsidian is also thought deeply calming accepting energy of love and that it will bring awareness to the soul and unity to those who feel alone.
When worn or kept close, snowflake obsidian is said to keep wearers centered and focused and helping the wearer to feel a sense of calm and inner centering.
This is both a protective and grounding stone helping the user to feel safe in different situations. It is believed to cleanse a person of negative energy, helping to dispel anger, jealousy, greed, and resentment, releasing those energy blockages.
It is a calming and soothing stone that teaches you the value of your mistakes and how to learn from them. It is also believed that this stone can help you keep calm in the most challenging situations. 

Healing properties of snowflake obsidian
It is believed that snowflake obsidian has powerful healing properties. 
It is thought that this stone can aid in the treatment of the veins and skeletal structure and also improve circulation. It is said that carrying this stone will help ease muscle aches and spasms and can also help relieve joint pain and hardening of the arteries.
This stone is thought to aid in physical detoxification and helps to eliminate viral and bacterial infections.

Snowflake obsidian use for protection
The snowflake obsidian is often used for protection. This stone protects the owner from negative emotions and energies both yours and in people around. 
It is believed that this stone is associated with spiritual guides and guardians. With these guardians with you never need to be afraid and know you will always know that you will be supported and protected for physical, emotional, and spiritual harm.
It provides one with a sense of security and stability that allows you to conduct yourself with a sense of self-confidence.

How to use snowflake obsidian?
Throughout the years, the snowflake obsidian has been used in a variety of different ways. In ancient times all types of obsidian have been used in making the blades for weapons and for arrowheads. It was also polished for making mirrors.
A snowflake obsidian ball is used to gaze into during meditation.
Larger stones can also be set in the home to protect the house and keep negative energy out.
It can be carried with you or used for jewelry for it's healing properties and for protection or just for the beauty of the stone.


Snowflake obsidian jewelry
Snowflake obsidian necklace
[content-egg module=Amazon template=item product="us-B07R6F4HZ5″ disable_features=1 ]
The necklace features the thick and sturdy stainless steel chain and a gorgeous piece of quite large (0.31*1.3 inches) snowflake obsidian. The item is very well made and can be suitable both for layering with other necklaces of as it is. Thick but dainty at the same time – this pendant won't leave anyone indifferent. A great addition to your crystal collection if you are looking for a powerful protector that can look elegant with any outfit as well. 
Snowflake obsidian ring
[content-egg module=Amazon template=item product="us-B07Q5HSGBL" disable_features=1 ]
Add a splash gothic to your style with this silver ring. A unique piece with floral accents carries a three-sided shaped Black Snowflake Obsidian that is gorgeous. Well constructed, uniquely designed, stunningly beautiful, and the snowflakes in obsidian are bright and vivid. And don't forget that this stone is thought to assist you in releasing anger and replace it with love and compassion instead.
Snowflake obsidian bracelet
[content-egg module=Amazon template=item product="us-B01INL3H8O" disable_features=1 ]
This natural snowflake obsidian bracelet can be worn by both men and women. 
It looks very solid and well made. The stones are shiny, very smooth, consistent in size (around 8 mm), and heavy – the real deal. The bracelet is also very stretchy, but not break easily. And it can fit perfect all the wrists from 6.5 inches to 7 inches. An ideal piece for grounding and protection. 
Thanks for the blog graphics: Canva.com

Disclosure: At Buddhatooth.com we only mention the products that we've researched and considered worthy. But it's important to note that we are a participant of several affiliate programs, including but not limited to VigLink and Amazon Services LLC Associates Program, an affiliate advertising program designed to provide a mean for us to earn fees by linking to Amazon.com and affiliated sites. As an Amazon Associate Buddhatooth.com earns from qualifying purchases.