Top Heart Chakra Affirmations To Help You Start A New Life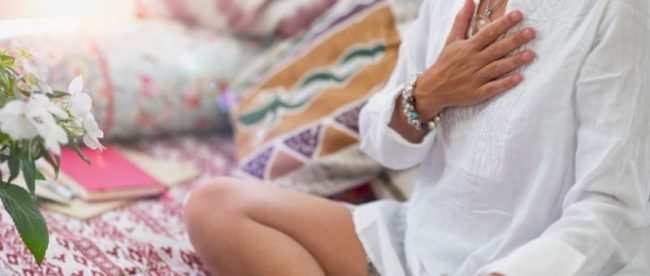 The heart chakra is one of the most powerful links in our system. The chakras represent the seven wheels of energy in our bodies. It all starts with the crown of our head and travels down the body until it reaches the base of the spine. The heart chakra is the fourth primary chakra linked with a deep sense of serenity and calmness. And the best thing about it is that you can use some powerful heart chakra affirmations to heal and restore a healthy energy flow in this chakra. This article discusses everything you need to know about the 4th chakra healing and daily affirmations to use.
Are you interested in the specific questions about heart chakra affirmations? Then use the table of contents below to jump to the most relevant section. And you can always go back by clicking on the black arrow in the right bottom corner of the page. Also, please note that some of the links in this article may be affiliate links. For more details, check the Disclosure section at the bottom of the page. 
What is heart chakra responsible for? 
Before we discuss the heart chakra mantras, let's recall what this chakra is responsible for. The heart chakra is linked with your ability to love. It has a powerful meaning connected to integration and creating a bridge between your earthy and spiritual desires.
The heart chakra has multiple purposes and effects. It offers access to the gift of appreciation for the beauty in the world. But at the same time, its energies focus on experiencing honest, deep, and meaningful relationships.
This chakra links the lower chakras with the upper chakras. It's the center of integration for all your chakra systems, which is why you shouldn't ignore the 4th chakra healing opportunity. This chakra aids you convert your experiences and emotions. It is a key part of any relationship with other people and yourself. When you feel love through the heart chakra, it's more than romance. So, the affirmations for heart chakra are here to help you overcome any barriers you might have. These mantras can activate, cleanse and heal your heart chakra.

How can affirmations affect chakras? 
Chakra affirmations have an important role in Hindu, Buddhist, and similar spiritual systems. These mantras are believed to empower the energy centers in our body and influence physical, emotional and spiritual health. The seven chakras are positioned along the spine, and these manage our energy field throughout our lives.
Affirmations provide a powerful alchemical synergy of intention. The spoken word combined with mindfulness has a direct effect on chakras. Affirmations can harness the power of the present moment and offer positive results and feelings.

How to use chakra affirmations? 
The emotional struggle we face daily can be connected with a specific chakra. Having a mantra to heal each chakra can be helpful in numerous ways. The secret is to create a specific routine to chant your affirmations. This practice isn't prescriptive. It\s rather a starting point to learn how to understand each chakra.
Energy healing is an ongoing process. But sometimes, your chakras need an extra boost to overcome a challenge. For example, meditation can wake up your chakras and help you uncover their hidden powers. But if you want to balance your energy centers and find a better purpose in life, you will have to focus on chakra affirmations.
You should always use mantras in a calm environment. Make sure you attempt to heal your chakras early in the morning when the world isn't in a rush. Set up a room in your home so that it promotes a deeper sense of calmness. If you can spend time outdoors, you can use chakra affirmations while sitting directly on the ground. The goal is to start a mantra meditation to heal your body through vibrations and harmony of chanting specific syllables. Chakra affirmations will help you achieve a deeper meditative state.

What are the most efficient heart chakra affirmations?
Heart affirmations are some of the most powerful. Our heart chakra is one of the most susceptible to getting blocked, which is why you should always have available a list with powerful heart chakra affirmations. Focusing on this practice will provide a deep sense of balance, companion, respect, and unconditional love.
The life-force energy is a subtle component of this chakra. If you choose wisely your heart chakra affirmation, you will be able to achieve impressive things. The significance of the heart chakra enables us to understand our connection with the entire existence. So, opening up your heart offers tremendous benefits.
Remember that if you have a blocked heart chakra, you will experience issues communicating emotions. And you might even have a hard time dealing with physical stress or sexual intimacy. Luckily, the following 4th chakra healing affirmations can help you restore the balance:
I forgive myself for the mistakes I've made.
I forgive the ones who were unkind to me.
I love myself and all beings unconditionally.
I release grudges I hold for others.
I'm independent
I'm confident.
I release the anger.
I'm in complete control of my emotions.
I don't allow people to upset me.
I'm the source of unconditional love.
I'm worthy of love.
I treat others with kindness and empathy.
I feel safe to give and receive love freely.
I feel grateful.
I believe in myself.
I am ready to follow my passion.
I listen carefully to what my heart wants and needs.
My heart is recovering each day.
I give myself time and permission to heal.
These are some of the most powerful heart chakra affirmations you can use starting today. Remember that it all depends on how much time you invest in healing. If you heal your heart chakra and focus on understanding yourself, you'll be able to live in a world with less fear, isolation, and loneliness.
Thanks for the blog graphics: Canva.com

Disclosure: At Buddhatooth.com we only mention the products that we've researched and considered worthy. But it's important to note that we are a participant of several affiliate programs, including but not limited to VigLink and Amazon Services LLC Associates Program, an affiliate advertising program designed to provide a mean for us to earn fees by linking to Amazon.com and affiliated sites. As an Amazon Associate Buddhatooth.com earns from qualifying purchases.