Mangano Calcite Meaning, Properties, Benefits, and Origin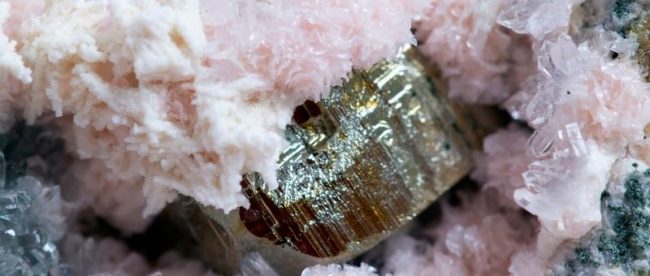 Are you searching for a reliable coping mechanism? Well, Mangano Calcite might be your ally! One of the Mangano Calcite benefits is that it can help you let go of fear and grief. And since it is beautiful Pink Calcite, you'll keep it close out of pure love. Next, we shared our insights on this beautiful healing stone.
Do you have a specific question about Mangano Calcite? Then use the table of contents below to jump to the most relevant section. And you can always go back by clicking on the black arrow in the right bottom corner of the page. Also, please note that some of the links in this article may be affiliate links. For more details, check the Disclosure section at the bottom of the page. 
What is Mangano Calcite?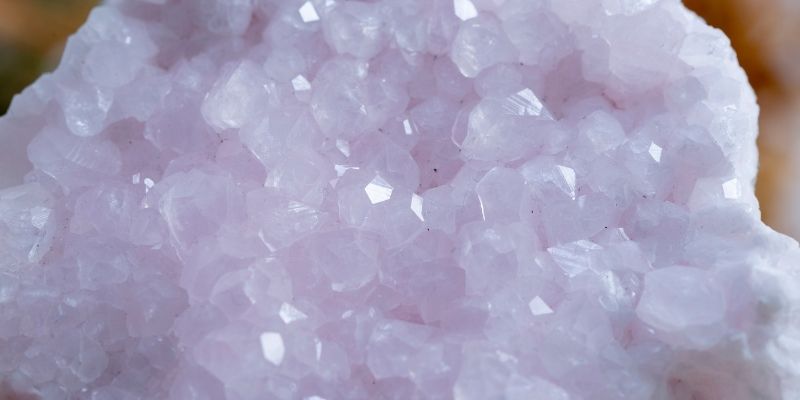 Mangano Calcite is different from other crystals because it has manganese in its composition. It is meant to help you achieve a higher level of self-worth and self-esteem.

Where is Mangano Calcite found?
This lovely pink stone can be found in several areas on the globe where natural mineral thrive. For example, it can originate from the USA, Peru, Mexico, Bulgaria, the United Kingdom, or the Czech Republic.

Mangano Calcite vs rose Quartz
Pink Mangano Calcite is distinct from the Rose Quartz, even though they are similar in color. The main distinction between the two is energy. The Rose Quartz has a powerful energy that will help align your chakras, while the Mangano Calcite is gentler and soothes your inner pain. Also, this crystal is opaque, while the rose Quartz has a translucent pink-like color.

How to use Mangano Calcite?
Pink Mangano Calcite crystal has the power to attract strong energies that will boost concentration and determination. It can also bring positive thoughts into your life.
To get the most of this beautiful stone, you should use the Pink Mangano Calcite in your house's west area. This is an excellent ally for meditation and unwinding your mind. You should keep this stone close to the heart chakra since its primary purpose is to heal and protect it.

What is Mangano Calcite good for?
Besides being great for attracting new energies, you can use this stone to regain inner balance. Using Mangano Calcite for grief is one of this stone's main applications since it can increase inner peace and tranquility. Having it around can help you restore the energy flow in your chakras so that you recover from trauma, grief, or extreme periods of sadness.

Mangano Calcite healing properties
This is a special stone with unique healing properties. It is excellent for promoting compassion, pure love, joy, and self-healing vibrations. Overall, if you're searching for an authentic healer stone, this is the best choice for you.
It concentrates its healing vibrations around the heart chakra, helping you manage unresolved trauma and pain. Ultimately, this stone can help you achieve a sense of harmony and mental equilibrium.

Calcite metaphysical properties
Calcite is a spiritual stone that enables the opening of higher consciousness. So, it aids the body and mind to recall soul experiences. It can also help you connect the intellect with your emotions to uncover the best healing tools you have at hand. Calcite is perfect for those studying sciences and arts.

The Mangano Calcite is closely linked to the heart chakra. And this is why it can help you heal your inner pain. You'll notice that the power of this stone will allow you to let go with ease so that you follow your true path and heal.

How to cleanse Mangano Calcite?
The first thing you need to know about cleansing Mangano Calcite is that this is a soft stone. This means you should be gentle when cleaning it. And there are two ways to do so.
You can carry it outside and let it lay in the sun rays. Or, if you're searching for a more convenient approach, you can let the stones sit on selenite. Selenite crystals are known for their potent cleansing properties, which is why it can help Mangano Calcite recharge and regain its balance.

Mangano Calcite jewelry
Luckily, there is numerous Mangano Calcite jewelry you can use. This offers ease of usage, and it can help you cleanse the stone faster. Wearing accessories with this stone will protect you from negative thoughts and offer the best coping mechanisms at all times.
Mangano Calcite palm stone
[content-egg module=Amazon template=custom/image product="us-B003TTDQ2S"]
Our favorite is the Mangano Calcite palm stone. The stones healing properties can be easily accessed with this gorgeous interpretation. It has a soft and constant energy that will encourage self-confidence, happiness, and joyful thoughts. Also, it comes with a special charm that will soothe even your restless thoughts.
You can opt for using this Mangano Calcite Stone. It is one of our top choices since it is extremely qualitative and nice to have around. The overall dimensions are Width: 1.18″, Depth: 0.20″, Length: 1.57″, being easy to keep in your hand.
Remember that this thumb stone is recommended for those in the birth sign of cancer since it can offer them the most help. But since it is the protector of the heart chakra, anyone can use it for its healing properties.
Mangano Calcite pendant
[content-egg module=Amazon template=custom/image product="us-B08668XZXY"]
Wearing a Mangano Calcite pendant can help you benefit from the best heart chakra healing properties. The stone will sit gracefully near this chakra, sending its powerful healing vibration.
Wearing a pendant can help you become conscious at all times about your feelings, disappointments, and how you wish your relationships to unfold. It can contribute significantly to your aura's health, so you should wear it with confidence.
This Gemstone Crystal Pendant is both beautiful and powerful. It can help you protect your aura, heal your heart chakra, and restore inner balance. And the best part about it is that it is entirely made by hand.
So, you can rest assured that this gentle stone was handled with care. Also, it will get shipped with a Selenite charging stone to help you use it immediately. You'll notice its power almost immediately.
Thanks for the blog graphics: Canva.com

Disclosure: At Buddhatooth.com we only mention the products that we've researched and considered worthy. But it's important to note that we are a participant of several affiliate programs, including but not limited to VigLink and Amazon Services LLC Associates Program, an affiliate advertising program designed to provide a mean for us to earn fees by linking to Amazon.com and affiliated sites. As an Amazon Associate Buddhatooth.com earns from qualifying purchases.