Green Apophyllite Its Meaning, Properties, and Chakra Healing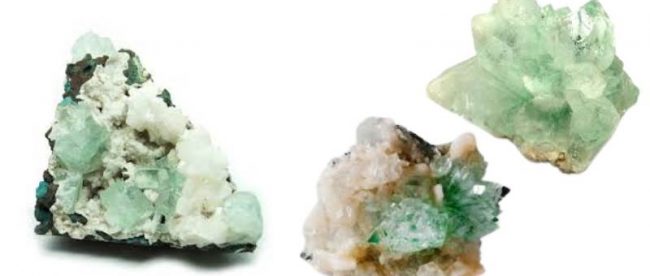 A green apophyllite cluster is a fascinating crystal to have around, particularly because of its unique shape. But besides this, apophyllite is a class of minerals named after a Greek term that translates into "it flakes off." But on top of it, the gem has pretty unique properties. Let's explore them in detail. 
Do you have a specific question about Green apophyllite? Then use the table of contents below to jump to the most relevant section. And you can always go back by clicking on the black arrow in the right bottom corner of the page. Also, please note that some of the links in this article may be affiliate links. For more details, check the Disclosure section at the bottom of the page. 
What is green apophyllite? 
Apophyllite is a hydrated potassium calcium silicate mineral. It stands out because it crystallizes in the form of pyramidal structures. Experts say it is a cubic crystal and a matrix of several other compounds. It was first discovered in 1806, and scientists were impressed by this crystal's ability to crumble when heated. The most common color for apophyllite is clear or white. Still, you can find it in several other colors, including green, too.
[content-egg module=Amazon template=custom/image product="us-B007C31MNM"]
What makes apophyllite green?
Green apophyllite doesn't belong to the Zeolite family. It can be discovered as a secondary crystal to Stilbite, a Zeolite. This is why it can get a color ranging from pale to vivid green. The small Stilbite inclusions trigger an inner reaction that determines its green color level. Since it is a crystal that flakes off when heated, it can feature distinct green notes based on its origins.

Is green apophyllite rare?
Overall, this crystal is available in white, grey, yellow, and red. But the rarest one is green apophyllite. It was discovered several decades ago by an Indian farmer in Poona, India. Also, this crystal can be found today in Canada and Brazil too.

Green apophyllite meanings and uses
[content-egg module=Amazon template=custom/image product="us-B07CXYXLMJ"]
Green apophyllite crystal symbolizes the beauty of life, the energies, and the abundance of nature. It has a restful color, and it can strengthen your sense of self-respect. Wearing green apophyllite beads will encourage harmony, balance, growth, and learning.
And it can have a beneficial impact on health as it is believed to help in dealing with degenerative diseases at a physical level. Also, it can cleanse your body of toxins and speed up recovery after illness.
Moreover, one of the most interesting green apophyllite properties is its ability to support healthy relationships and love. It can help you unleash emotional baggage, get rid of negative vibes, and welcome positive feelings. It's all about restoring balance in your life!
This crystal aids in getting rid of old habits while improving creativity and motivation. Moreover, it can bring abundance and happiness if used with care.

What chakra is green apophyllite?
[content-egg module=Amazon template=custom/image product="us-B07PRG3KW1″]
Green apophyllite has a direct impact on your heart chakra. Wearing green apophyllite jewelry near your heart chakra can bring the energy of love and abundance to your life. Also, this crystal can help you achieve transcendental clarity in distinct situations involving persons you love.
An interesting fact about the effect of green apophyllite on the heart chakra is that it can help you remove anxieties. These can disrupt your stability and make you prone to clinging to negative feelings.
But it also can help you connect to the crown and third eye chakra as well. It promotes physical and emotional healing by balancing your life force energy and bringing it into your energy fields.

What if green apophyllite gets wet? 
If your green apophyllite gets wet, remove it from the water as soon as possible. Make sure you place it in a warm area to allow it to dry naturally. Remember that many crystals can dissolve when placed in water!
And this can be the case with apophyllite, too. It can crumble if exposed to too much heat, but it can also get damaged if exposed to water.

Green apophyllite healing properties
There are numerous green apophyllite benefits worth mentioning. It can become your ally when meditating because it promotes interdimensional communication.
Frequently using this crystal for meditation and relaxation can help you uncover the best ways to establish contact with higher realms. It is safe to say that green apophyllite can act as a guide towards enlightenment.
Moreover, since it is a healing crystal, it can soothe your nighttime routine. It is believed that this crystal encourages inner vision and clarity while shedding a new perspective on recurring dreams. It can pave the path to spiritual awakening by increasing your psychic abilities and capability to decipher your dreams.
[content-egg module=Amazon template=custom/image product="us-B07R7KKYDJ"]
Since the green apophyllite crystal is connected to the planet Earth, it is an excellent choice for those in the Libra or Gemini sign. It connects to the Earth and wind, being an asset for such powerful elements. Apophyllite is delicate but powerful! So, you shouldn't be surprised by its channeling properties. 
It can heal your energy and promote grounding for higher vibrations. It will become your travel companion to bridging the spiritual and physical worlds. 
But you should be aware that only with your hard work you can access such powerful healing properties.
If you have a green apophyllite crystal, you should try meditating with it outside. It has a special connection with nature. It is the best approach to attune you to the powerful energies surrounding us.
Remember that the energies of this crystal might feel too strong at first. But once you manage to balance it, you'll discover it has welcoming vibrational energy that will let you easily transcend towards higher realms.
Thanks for the blog graphics: Canva.com

Disclosure: At Buddhatooth.com we only mention the products that we've researched and considered worthy. But it's important to note that we are a participant of several affiliate programs, including but not limited to VigLink and Amazon Services LLC Associates Program, an affiliate advertising program designed to provide a mean for us to earn fees by linking to Amazon.com and affiliated sites. As an Amazon Associate Buddhatooth.com earns from qualifying purchases.