Bronzite: It's Metaphysical, Healing, & Spiritual Properties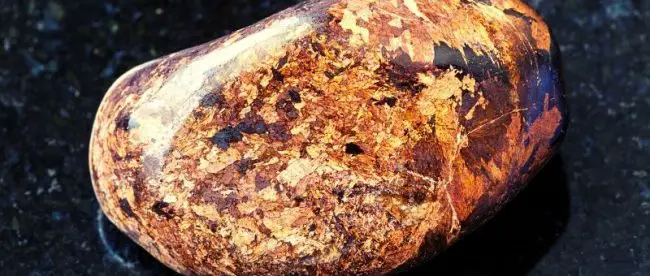 Bronzite is also known as the "stone of courtesy," as it believed to boost such feelings as love, equality, and protect anyone. Overall, it's a lovely stone with a bronze-like polish and lots of amazing properties. For instance, one of the bronzite properties is its power to bring inner peace and enable the owner to eliminate negative emotions. But let's dive deeper into bronzite meaning and facts about this stone. 
Do you have a specific interest in Bronzite? Then use the table of contents below to jump to the most relevant section. And you can always go back by clicking on the black arrow in the right bottom corner of the page. Also, please note that some of the links in this article may be affiliate links. For more details, check the Disclosure section at the bottom of the page. 
What is Bronzite?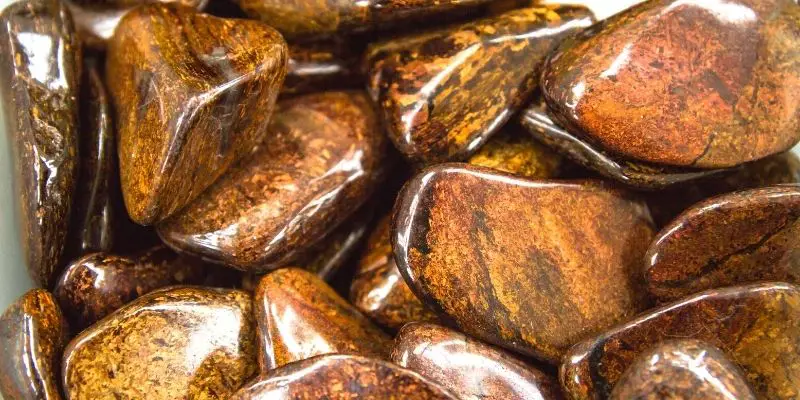 Bronzite, first reported back in 1906, is the iron-bearing sort of enstatite, typically found in meteorites. Possibly the most distinguishing feature of Bronzite is its bronze luster, which is what it was named after.  

What does Bronzite look like? 
Bronzite is an iron-bearing type of enstatite characterized by its green-brown shade and metallic-like shimmer. Its bronze-like color comes from the iron, and some pieces can have gorgeous golden and red patches, which make them even more captivating.
It can be encountered in translucent, opaque, and transparent greenish-brown shades. Of course, many other inclusions add character to every single piece of Bronzite. 

Where does Bronzite come from?
The most significant mining localities for Bronzite are Sri Lanka, India, South Africa, Germany, Norway, Finland, Austria, USA, and Greenland. 

Bronze vs. Bronzite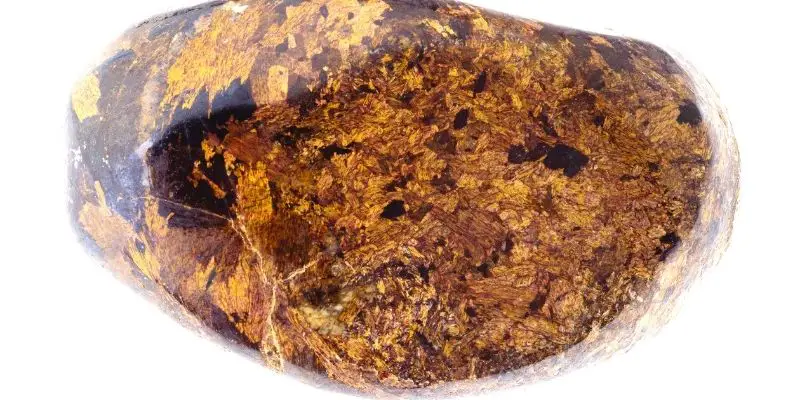 The name Bronzite comes from the word "bronze." And it was created that way, only based on the stone's looks, reminding that bronze luster. However, those two have a totally different composition. 
Bronze is a man-made alloy of copper, tin, and sometimes other metals (like zinc, nickel, aluminum, etc.) and nonmetals (e.g., silicon, phosphorus, etc.). 
Whether Bronzite is a nature-derived magnesium silicate with some inclusions of iron. 

Bronzite meaning and uses 
[content-egg module=Amazon template=custom/image product="us-B00U18TC78″]
Tumble Bronzite found on Amazon. Check the current price here.
As with any brown stone, Bronzite carries the grounding energy and brings some peace to the owner. It is said to boost one's self-esteem. And in case you need some help with challenging choices, Bronzite will assist you in being strong and getting through it.
This is incredibly helpful when the wearer senses they lack control or lose their grasp of a situation. This gem helps you get focused on what's essential to you, and not someone around you. 

Bronzite metaphysical properties
[content-egg module=Amazon template=custom/image product="us-B01IJ3077K"]
Charged tumbled Bronzite by Zentron.  Check the current price here. 
Bronzite carries an energy that promotes peace and balance and will help the growth of emotions of empathy and forgiveness.
Under stressful circumstances, this crystal will help you to stay calm. Amongst other metaphysical properties of Bronzite is its capacity to be a strong psychic protector.
It is recognized by ancients for its ability to send negative energy back to the sender. (Although with this stone the energy goes back and forth as some sort of ethereal boomerang, so it's better to pair it with another powerful protective stone, like obsidian, for instance.)
This crystal also has the power to connect you to your spirit guides, and it's also a good gem for manifesting abundance.

Bronzite healing properties
Wearing and using this stone can have many perks. For instance, if you feel exhausted as it is an iron-rich stone, it can help you fight the lack of energy. 
Amongst other bronzite gifts that ancient healers would swear by is its capacity to cleanse the blood, strengthen the owners' stamina, and calm the nerves. Some people utilize it to deal with trauma and anxiety. Bronzite is also thought to balance the alkalinity in your body. And even thought to reduce the symptoms of aging. 

Bronzite and chakras
[content-egg module=Amazon template=custom/image product="us-B07MFS6CKG"]
Adjustable Bronzite bracelet found on Amazon. Check the current price here.
Our root and sacral chakras are getting active when you are working with Bronzite. It will help bring focus, determination, drive, and control back into your life. 
It affects the heart chakra too and promotes compassion and forgiveness.

How to charge Bronzite?
Contrary to some opinions, you don't even need to charge crystals if you cleaned them properly. 
Crystals don't actually run out of energy. But they might start to vibrate in tune with the energy being released during the sessions they've been used for instead of its natural frequency. 
That's why you should always clean your crystals. 
How to cleanse Bronzite?
Bronzite is rated with a 5.5 on the Mohs hardness scale. So it's not the hardest stone, and you probably shouldn't clean it with water. (General rule is that everything higher than 6 is safe to wet, but I personally keep it at 7 to be safe). 
[content-egg module=Amazon template=custom/image product="us-B006X8846K"]
Super powerful Selenite stick from Crysalis Stone. Check more details here.
So to cleanse Bronzite from any negative energies it might absorb, you would have to use milder cleaning methods, e.g., exposing them to incense burning smoke (e.g., sage or Palo santo) or using crystals like selenite. 

How to use Bronzite? 
You can use this stone in meditation, keep it in your room or carry it on you at all times.
Having a piece of Bronzite in your pocket will provide a boost of confidence to stand up to demanding people who enjoy meddling with your life.
Having it near your skin and wearing it as jewelry will also help you to benefit from stones grounding, protecting, self-esteem boosting energy.

Bronzite jewelry for getting the most of this stone
Bronzite bracelet
[content-egg module=Amazon template=custom/image product="us-B07DNNJ6XZ"]
Stretchy Bronzite bracelet found on Amazon. More details here. 
Great handmade bracelet crafted from natural Bronzite. It measures from about 6.5 inches to 7 inches, and thanks to the use of elastic, it will fit larger wrists. Bronzite is a "stone of courtesy," so this bracelet can be especially helpful to people who assist the public. Particularly when publics requests and energy are getting too demanding, and you need help dealing with it. 
Bronzite palm stone
[content-egg module=Amazon template=custom/image product="us-B007C2YUQO"]
Bronzite palm stone found on Amazon. More details here. 
The silky shape and metallic finish of this Bronzite palm stone make it a lovely stone to work with. It's pleasant to hold during meditation or place on the body for crystal healing. This gem is a fantastic way to help achieve a state of certainty and easily pick the best path for the best possible outcome in our lives. 
Bronzite earrings 
[content-egg module=Amazon template=custom/image product="us-B07M6Y8MBH"]
Bronzite earrings found on Amazon. More details here. 
Lovely bronzite earrings are shaped like angel wings that will always be around. Those will act as a silent guardian to protect you from any negative energies sent your way. It's made by hand, and the craftsmanship is pretty good, so don't hesitate to get it as a gift for someone you love.
Thanks for the blog graphics: Canva.com

Disclosure: At Buddhatooth.com we only mention the products that we've researched and considered worthy. But it's important to note that we are a participant of several affiliate programs, including but not limited to VigLink and Amazon Services LLC Associates Program, an affiliate advertising program designed to provide a mean for us to earn fees by linking to Amazon.com and affiliated sites. As an Amazon Associate Buddhatooth.com earns from qualifying purchases.