Best 10 Crystals for Communication, Public Speaking & More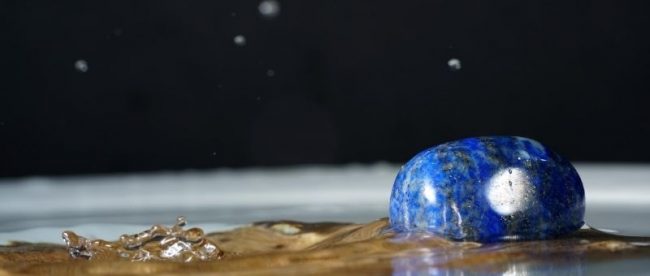 As written in Vedas, the earliest records of Hinduism, the energetic body of every human being, has seven chakras that go along the bottom of the spine to the top of the head.
The ability to communicate, which is arguably the most crucial to success and happiness, is related to a Throat Chakra. When it's blocked, a person may struggle to express his or her ideas and thoughts. And one of the fastest ways to deal with it is using crystals for communication.  
Using communication stones extends our possibilities, inspires our passions, and reinforces our relationships. Some might also help calm the mind of anxiety and compel us to speak our authentic truths and embrace our real selves. 
Below you will find 10 most powerful communication crystals. Most of them are blue to activate the throat chakra. Some are also related to the heart chakra for increased authenticity. 
Do you have a specific interest in communication crystals? Then use the table of contents below to jump to the most relevant section. And you can always go back by clicking on the black arrow in the right bottom corner of the page. Also, please note that some of the links in this article may be affiliate links. For more details, check the Disclosure section at the bottom of the page. 
3 best crystals for communication
Lapis lazuli
[content-egg module=Amazon template=custom/image product="us-B07QB171LP"]
Lapis lazuli is the perfect gem for self-discovery because it helps us get to the truth of who we are. It expands our awareness, shows us our purpose, and encourages us to seek the knowledge that will help us be better versions of ourselves.
This stone also works well if you have trouble following your inner wisdom. It encourages you to trust yourself and experience the power of your words and their impact on others. With those insights, you definitely be able to communicate more consciously.
Aquamarine
[content-egg module=Amazon template=custom/image product="us-B07QB28ZK6″]
Aquamarine is thought to be the most powerful crystal used for cleaning and activating the throat chakra. Wearing a piece of jewelry (e.g. something like this bracelet) with this crystal will stimulate energy to move from the heart to the throat, driving more open communication, tolerance, and empathy.  
This stone for communication releases gentle energy that is believed to help you overcome a fear of public speaking. Wearing this stone also thought to improve the owner's ability to think sharp, fast, and clear.  
Blue lace agate 
[content-egg module=Amazon template=custom/image product="us-B07KX2YC53″]
This gem is sometimes referred to as the stone of articulation. It is believed to help its owners communicate openly and efficiently. It teaches the significance of picking the right words, so any of your speeches can be more powerful and confident. It can be particularly helpful if your job or lifestyle, in general, requires a lot of public speaking.  

Crystals for public speaking
Septarian
[content-egg module=Amazon template=custom/image product="us-B07MR85JB4″]
This gem is also known as Dragon Stone, and it's by far one of the best crystals for communication skills. It's a blend of aragonite, limestone, and calcite. Hence its burning energy that encourages independence and self-assertiveness.
This crystal helps you overcome the lack of self-confidence and procrastination so that you can strive toward your goals, efficiently acquire all the related skills on the way, and finally accomplish them.
Besides, Septarian has some nurturing properties that give you confidence and reduce fear when speaking in public in front of a big crowd. 
Are you struggling financially? YOU might be BLOCKING YOURSELF from success. Here's the article that answers all your questions: Your Path Reading will help you to reveal the hidden potential inside you.
Blue kyanite
[content-egg module=Amazon template=custom/image product="us-B07T5SLZ4Q"]
Blue kyanite is a remarkable stone for improving your intuition and guiding you to speaking your truth. It also is known as one of the most influential throat chakra stones.
And it's in charge of self-expression and finding your truth. Singers and public speakers are believed to benefit significantly from this gem's energy. 

Best crystals for honesty
Unakite
[content-egg module=Amazon template=custom/image product="us-B00L5RMOUG"]
This crystal was created as a result of the fusion of epidote, red jasper, and in some cases, quartz. Thanks to such diversity, it's believed to be beneficial for balancing Solar Plexus, Sacral, Root, and Heart Chakras.
So it can be an excellent crystal for adjusting the overall wearer's attitude and becoming more honest, soft, and empathetic both toward yourself and others.
Blue Apatite
[content-egg module=Amazon template=custom/image product="us-B06Y19YXFY"]
This stone is known to be aligned with the base chakra, so that's why it has enough power to drive your motivation and inspire you to be more passionate.
By wearing Blue Apatite in your pocket (something like this heart) you'll feel encouraged to communicate more honestly in all areas of your life – whether in conversations with loved ones, co-workers, random strangers, or yourself.

Best crystal for communication in relationships
[content-egg module=Amazon template=custom/image product="us-B071FC1FT4″]
Amazonite is regarded as one of the best throat chakra stones for communicating your feelings and ideas without being dramatic. It will help you recognize the solution to any problem. It will motivate you to look at it from another angle.
Wearing a piece of jewelry with Amazonite (e.g. something universal, like this mala) will help you deal with your internal conflicts, bring focus, and more joy into the wearer's life.
This stone is known to work with both throat and heart chakras. So that it is believed to help you accept change, improve relationships, and promote honest and gentle communication with other people. 
Tip from the editor: astral projection is one of the most powerful ways to achieve clarity in your life – including situations involving communications within the couple/family. You might think it's hard to master, but it's really not if you are guided by the right mentor. Celebrity hypnotist Dr. Steve G. Jones. is happened to be the one. So if you are curious about improving your skills of Out-of-body Experience you might check his teachings here.

Communication crystal for better leadership
[content-egg module=Amazon template=custom/image product="us-B00EZDSI52″]
Blue chalcedony is a potent gem that can help balance your throat chakra and communicate your ideas with courage. This stone makes a great confidence-inducing amulet for managers, motivational speakers, and other people that are supposed to lead and have to speak with dignity in front of a large crowd.
All in all, it's a powerful stone you can wear or carry with you (e.g., these pretty polished stones) if you wish to speak authoritatively or boldly, especially on important meetings, conferences, or events. 

Best crystal for communication and confidence
[content-egg module=Amazon template=custom/image product="us-B07Z8HYSQY"]
If you've always struggled with being a good speaker using Chrysocolla might be a good idea. This gem is believed to skyrocket the levels of owners' confidence. It can change the way you speak and express your ideas into the world.
Among Chrysocolla's properties are the ability to banish phobias, let go of limiting beliefs, and boost motivation. You can use all that to reprogram yourself to be more positive, confident, and feel at ease when you have to communicate in front of the tough audience.
Thanks for the blog graphics: Canva.com

Disclosure: At Buddhatooth.com we only mention the products that we've researched and considered worthy. But it's important to note that we are a participant of several affiliate programs, including but not limited to VigLink and Amazon Services LLC Associates Program, an affiliate advertising program designed to provide a mean for us to earn fees by linking to Amazon.com and affiliated sites. As an Amazon Associate Buddhatooth.com earns from qualifying purchases.