8 Strongest Crystals for Self-Love, Worth, Acceptance & More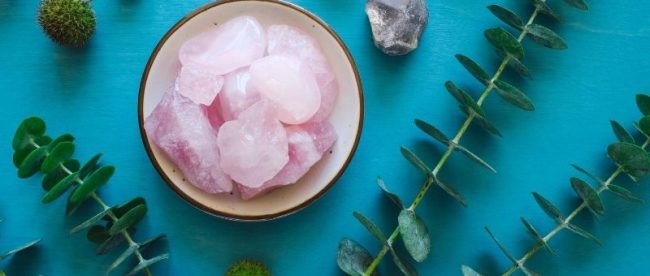 Self-love inspires you to make healthy choices, take care of your physical and emotional needs, and get rid of self-sabotaging habits. All of that leads to a more positive outlook on life and greater self-respect. 
To love yourself doesn't mean being selfish. It's actually empowering.
Feelings of low confidence and self-worth often mean that something is not right in your energy field. Using the healing power of crystals for self-love to boost your inner glow and raise your vibrations can actually offer tremendous help. At very least it believed to bring joy and harmony back into your life. 
The stones in the list below can help you to combat any issues with self-worth and inspire you to understand that you deserve the best life has to offer.
Do you have a specific question about crystals for self-love? Then use the table of contents below to jump to the most relevant section. And you can always go back by clicking on the black arrow in the right bottom corner of the page. Also, please note that some of the links in this article may be affiliate links. For more details, check the Disclosure section at the bottom of the page. 
Crystals for self-acceptance
[content-egg module=Amazon template=custom/image product="us-B083JC414H"]
Sodalite helps you to stand up for your dreams and be true to yourself. This self-love crystal helps you release old mental conditioning and stiff patterns and beliefs, helping you to put new insights into places instead. It lets you surface some of your imperfections and accept them without judgment. It is believed to magnify self-esteem, self-trust, and self-acceptance.

Crystals for happiness and self-love
[content-egg module=Amazon template=custom/image product="us-B07R16LLGM"]
Citrine is a powerful gem that reconnects you with your true spiritual essence and releases any toxic energies you might hold. And that, in turn, helps you to develop more profound self-respect and perception of your worth. It will help you increase your self-esteem and let go of your past, so you can move forward with positivity, courage, and optimism.
This crystal's sunny energy also reduces any self-doubt. If you regularly feel judged or criticized, this shift in thinking can develop self-esteem and lead to an overall happier life outlook. 

Best stone for self-confidence
[content-egg module=Amazon template=custom/image product="us-B07MBVWHYY"]
Carnelian is a powerful crystal to raise your self-worth and confidence levels. It influences the energy of root, sacral, and solar plexus chakras to encourage passion and motivation to achieve your goals. It is also great for creativity, allowing you to overcome issues of self-doubt and lack of confidence.
It can be particularly useful in high-stress situations, e.g., when you are going through important meetings or interviews. Just carry it with you in a pocket (for instance, this piece looks perfect for the purpose) and enjoy the boost of confidence each time you touch the stone. 

Best crystals for self-love and acceptance
[content-egg module=Amazon template=custom/image product="us-B01JKM0Y4A"]
Moonstone is an extraordinary gem with the power to bring your kind nature and nurturing ability to the surface. It'll help you recognize the importance of developing a relationship with yourself.
As it aligns with the feminine energy of the moon, you'll be able to cultivate a more gentle attitude toward yourself. It's believed to work perfectly for stabilizing your emotions and opening your heart to self-acceptance.

Powerful stone for self-love in relationships
[content-egg module=Amazon template=custom/image product="us-B07STHG8MP"]
Ruby has been recognized as a stone of protection, vitality, integrity, devotion, and confidence. Thanks to all those wonderful properties, this crystal can be perfect for cultivating meaningful relationships based on mutual respect and self-assurance.
It wraps you into a warm protective energy cocoon to shield you from negative influences and your own ego. This stone is on the pricey side when we are talking about the natural version. But if you go for raw handmade pieces, like this one, you can get yourself a good deal. 

Best stone for cultivating self-worth
[content-egg module=Amazon template=custom/image product="us-B07KN8QYSQ"]
Sunstone is a joyous gem and helps you nurture yourself and let your real self shine through. It removes any co-dependency in relationships with others and facilitates self-empowerment, self-sufficiency, and vitality.
Extremely useful for removing any negative triggers from your past that have a tendency to drain your energy. And helps you to be more optimistic and enthusiastic, increasing your overall confidence and self-worth.

2 best crystals for self-love of all
Rose quartz
[content-egg module=Amazon template=custom/image product="us-B07HB564Y8″]
A lot has been said about rose quartz, one of the most powerful crystals, when it comes to love. 
And as you might imagine, the gem's energy can be a real game-changer for self-love. By allowing you to see more beauty in yourself, this gem will comfort and forgive yourself. It will remind you that you are worthy of love. It will help you to practice self-compassion and love yourself regardless of any perceived flaws or imperfections.
Carry a piece of rose quartz in your pocket (e.g., something like these cute heart-shaped pieces) to experience an immediate boost of its warm and loving energy whenever you need it throughout running your daily errands. 
Amazonite
[content-egg module=Amazon template=custom/image product="us-B01LW32GDT"]
Another potent crystal that correlates with the energy of the heart chakra and promotes self-love. It's a bit more dynamic than rose quartz in terms of energy, but if you are determined to do some serious work on any issues you might have with self-love, this gem is the best way to go.  
It helps to cultivate self-awareness and compassionate, rational thinking. Amazonite is also particularly beneficial for raising self-esteem and forgiveness. Amazonite is believed to help build a new layer of confidence and cultivate "I can do it" attitude toward all the goals you might think of. 
Thanks for the blog graphics: Canva.com

Disclosure: At Buddhatooth.com we only mention the products that we've researched and considered worthy. But it's important to note that we are a participant of several affiliate programs, including but not limited to VigLink and Amazon Services LLC Associates Program, an affiliate advertising program designed to provide a mean for us to earn fees by linking to Amazon.com and affiliated sites. As an Amazon Associate Buddhatooth.com earns from qualifying purchases.