Phosphosiderite: Success Facilitator and Powerful Chakras Healer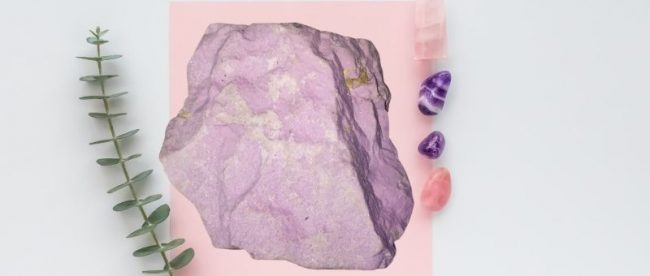 Phosphosiderite is a soft stone with a red-violet shade. And there are several variations of this crystal, based on the area from which the gem came from. The first feeling you will have when touching this crystal will be that of immediate attraction.
Ancient healers believed this was a result of the fact that Phosphosiderite has an intense heart-based energy. But what else can Phosphosiderite bring to the table? 
Do you have a specific interest about Phosphosiderite? Then use the table of contents below to jump to the most relevant section. And you can always go back by clicking on the black arrow in the right bottom corner of the page. Also, please note that some of the links in this article may be affiliate links. For more details, check the Disclosure section at the bottom of the page. 
What is Phosphosiderite?
[content-egg module=Amazon template=custom/image product="us-B01HADOB2W"]
Phosphosiderite is a rare crystal made mostly of iron and phosphate. It is formed in complex granites, but at the same time, it can be a soil component. It is also thought to have several amazing therapeutic properties. For instance, it is one of the most popular gems used to reduce nervousness and anxiety by ancient healers.  

Where is Phosphosiderite found? 
Small deposits of this crystal can be found in several areas on the globe. For instance, the list includes France, Germany, Sweden, Liberia, Mozambique, South Africa, and several towns in the United States. 

Phosphosiderite hardness
Depending on its origins, Phosphosiderite can have a hardness ranging from 3.5 to 4 of the Mohs scale. Its fracture is often uneven, which makes room for variations. 

Phosphosiderite meaning and benefits 
The name for this crystal is derived from its composition. It features both iron and phosphorous. This crystal is also known under the name pink rock, depending on its coloring and origins. But no matter what variation you get, Phosphosiderite is a crystal with several potent healing benefits. 
According to ancient healers, this crystal might dilute negative energy and release pure energy. Also, it might help in sacral chakra healing and balancing. It is thought that Phosphosiderite might have a beneficial impact on psychological and mental issues, being efficient in dealing with sleep disorders or anxiety (check my post for more anxiety and grounding crystals). 

Phosphosiderite metaphysical properties
Phosphosiderite might offer interesting metaphysical properties. As it is said in ancient beliefs, this crystal might boost the wearer's spirit. It might promote happiness, concentration, and the ability to enter into a state of relaxation. Many people believe this is a lucky crystal, as it might facilitate the road to success. 

Phosphosiderite healing properties
[content-egg module=Amazon template=custom/image product="us-B07T9B1W58″]
Since ancient times, this crystal was thought to be efficient in healing various diseases, too, as it was believed to be effective in dealing with chronic health problems.

Phosphosiderite jewelry
Phosphosiderite jewelry might be your ally in dealing with several issues. It is believed that keeping this crystal near some ailment or body parts might boost the healing process. And might help you to balance your third eye and heart chakras too. 
Phosphosiderite necklace
[content-egg module=Amazon template=custom/image product="us-B07FPC9C9C"]
Since there are just a few options for Phosphosiderite jewelry, maybe you can be better off designing it yourself? You can use these beads on a temporary wire to benefit from the Phosphosiderite necklace: anything from releasing negative energy to boosting your physical, spiritual, and mental wellbeing. 

Phosphosiderite pendant enhancer
[content-egg module=Amazon template=custom/image product="us-B01NBW3UUR"]
Pendants are great for healing your heart chakra. They dangle close to the heart, which is why Phosphosiderite pendants might have the power to cure you emotionally. Also, this pendant might offer a deep sense of hope while getting rid of negative or dark thoughts.
Besides being stylish, this pendant enhancer might help you smooth your temperament and promote a sense of joy and stability. Besides, some healers say that a Phosphosiderite pendant enhancer might have the power to offer you peace of mind and tranquility.

Phosphosiderite ring
[content-egg module=Amazon template=custom/image product="us-B017SX3YK4″]
Since it is believed that Phosphosiderite acts as a door opener for an improved experience of life, wearing a ring with this crystal might help you discover your inner self. And it is thought that a Phosphosiderite might aid in emotional recovery if you are going through some hard times in your life.
Many healers suggest that it might help you reach out for Spiritual help, making this ring your ally in meditation. Wear the Phosphosiderite ring on your dominant hand to experience all its potential healing properties. 

Thanks for the blog graphics: Canva.com

Disclosure: At Buddhatooth.com we only mention the products that we've researched and considered worthy. But it's important to note that we are a participant of several affiliate programs, including but not limited to VigLink and Amazon Services LLC Associates Program, an affiliate advertising program designed to provide a mean for us to earn fees by linking to Amazon.com and affiliated sites. As an Amazon Associate Buddhatooth.com earns from qualifying purchases.