Lithium Quartz: Natural Stress Reliever and Powerful Meditation Crystal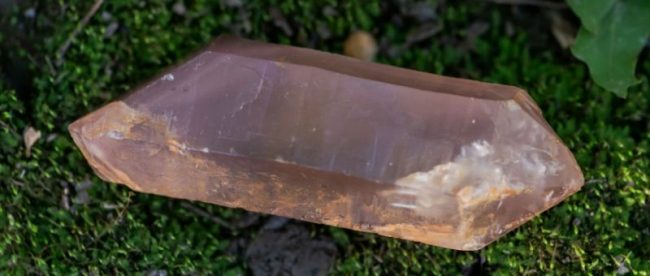 Lithium Quartz is one of the most potent and beneficial crystals that may help you in many ways. It is a beautiful gem of a nice pink color mixed with grey and violet. Overall, this crystal might offer several therapeutic benefits, as it can do more than alleviate emotional pain and stress. But let's learn more. 
Do you have a specific interest about Lithium Quartz? Then use the table of contents below to jump to the most relevant section. And you can always go back by clicking on the black arrow in the right bottom corner of the page. Also, please note that some of the links in this article may be affiliate links. For more details, check the Disclosure section at the bottom of the page. 
What is Lithium Quartz?
Lithium Quartz is a silicon dioxide mineral from the Quartz family. It happens naturally in several areas in Brazil, and it is rated at seven on the mineral hardness classification. This crystal has lavender to pink-grey coloring.

Where does Lithium Quartz come from?
The authentic, bright pink and purple Lithium Quartz is found in Brazil. And there are also quite a few variations of this stone, which might be discovered throughout Europe. 

Lithium Quartz meaning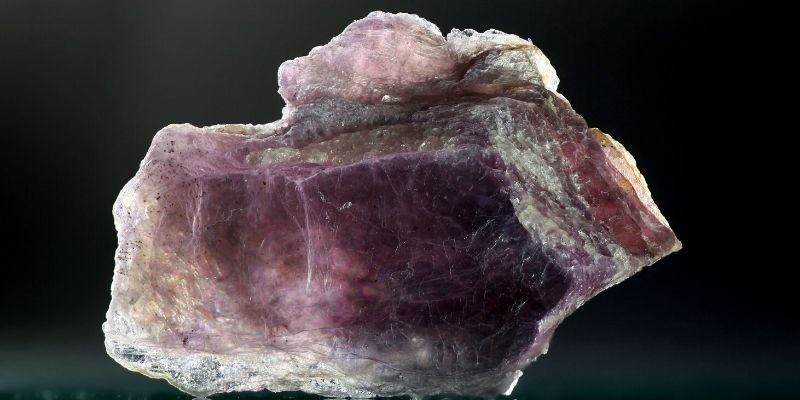 Lithium Quartz is a fascinating healing stone, which is believed to balance your inner self. Since ancient times, this crystal was thought to be efficient as a self-cleansing talisman. Many people used it to overcome tension, stress, or anxiety, as having Lithium Quartz nearby might promote peace and relaxation. 

What does Lithium Quartz help with?
It is believed that Lithium Quartz can help with several issues. As an example, it might act as a natural anti-stress remedy due to its soothing and balancing properties.
Lithium Quartz might help you achieve a balance between body, mind, and spirit, which is why this crystal is frequently associated with releasing negative thoughts and feelings. Also, this crystal might help you enter a deep meditation state to connect to your higher self. 
Also, some say that this heart healing crystal might help with achieving harmony in relationships. And the best part about it is that it might be of great help in attaining emotional openness and release of attachments. 
[content-egg module=Amazon template=custom/image product="us-B07FRV63T4″]

Lithium Quartz healing properties
This crystal might be useful if you need help balancing mood swings and deal with feelings of depression and anxiety. Its primary healing property is that of cleansing both your body and mind while supporting normal organ functioning. 

How to use Lithium Quartz?
There are several ways in which you can use Lithium Quartz for its potential benefits. You can wear it on your dominant hand to manage panic attacks or anxiety, as it connects with your heart chakra (as a ring or a bracelet).
Besides this, you can meditate or sleep with Lithium Quartz to promote relaxation, a night of deep sleep, and balanced energy flow. (And check my article for more sleep crystals if you need suggestions on the field! I put a pretty robust list together).

How to cleanse Lithium Quartz?
[content-egg module=Amazon template=custom/image product="us-B07N36HB35″]
        Some people believe that Lithium Quartz never needs cleansing or energizing. Still, it was observed that this crystal's healing properties are more powerful when the stone is tended to.
Lithium Quartz might benefit from physical cleaning with a non-abrasive sponge. Make sure you don't use harsh chemicals on it. The goal is to clean its surface so that it attracts more energy from the sun. 

How to charge Lithium Quartz?
You should know that Lithium Quartz is powered by fire energy, so it might be a good idea to position it in the southern area of your house. Ensure it sits in direct sunlight at least for a few hours once in a while. Thus it will restore its healing vibrations and also get cleaned from any negative energy it might have absorbed previously. 

Lithium Quartz jewelry
It is thought that Lithium Quartz jewelry might help clean and activate all chakras. There are quite a few accessories designed with authentic Lithium Quartz, which you can use to purify your body, mind, and spirit. 
Lithium Quartz necklace
[content-egg module=Amazon template=custom/image product="us-B08413778X"]
Found this precious piece here.
 This Lithium Quartz necklace comes with a sterling silver setting pendant and genuine Lithium Quartz from Brazil. I believe it can turn out to be helpful for inner healing, meditation, and discovering oneself. Mainly, Lithium Quartz necklaces reach out to all seven chakras, embracing your aura with healing energy. 
Lithium Quartz pendant
[content-egg module=Amazon template=custom/image product="us-B084TDB57Z"]
Found it here.
If you want a unique and powerful Lithium Quartz accessory, this pendant might be an excellent choice. The crystal is wrapped with wire, offering an unusual sight to the wearer. This particular talisman is believed to be useful for travelers as it might instill courage and confidence.
Also, it might help you achieve inner peace and comfort, as it has a direct impact on the heart chakra. Its beautiful colors will make you sense the healing energy of this fantastic crystal instantly. 
Thanks for the blog graphics: Canva.com

Disclosure: At Buddhatooth.com we only mention the products that we've researched and considered worthy. But it's important to note that we are a participant of several affiliate programs, including but not limited to VigLink and Amazon Services LLC Associates Program, an affiliate advertising program designed to provide a mean for us to earn fees by linking to Amazon.com and affiliated sites. As an Amazon Associate Buddhatooth.com earns from qualifying purchases.