Aquamarine, Amethyst, or Ruby? What Is the Best Pisces Birthstone?
This article is a part of our ultimate birthstones series, and here we will discuss all lucky gems that work for Pisces. Are you Pisces? Or know someone who is? Then read on, let's find out which gemstones resonate better with sign's personality. And learn more about this sign's character. 
Are you interested in a particular topic about Pisces birthstones? Then use the table of contents below to jump to the most relevant section. And you can always go back by clicking on the black arrow in the right bottom corner of the page. Also, please note that some of the links in this article may be affiliate links. For more details, check the Disclosure section at the bottom of the page. 
Pisces: what are they like? 
If you were born between the 19th of February and 20th of March, then you are Pisces.  
It means that you are full of surprises and bursting with energy. And also known to have high ideals and many talents.
Pisces are selfless, always ready to help others, not expecting anything back. It's a Water sign characterized by empathy and significant emotional capacity. 
 Pisces people possess adaptable personalities and are capable of accepting any change of circumstances that comes their way. Some of their most awesome qualities are sensibility, intuitiveness, and compassion.
However, sometimes they can be a bit lazy, melancholic, or even stubborn. However, we are here to discuss the possible help from mother nature – powerful birthstones that will make all your positives pop and handle the negatives. Buckle up!

That's it for now, let's move on to the birthstones.

Pisces color
The colors affiliated with Pisces are all blue and indigo types of shades. Pisces sometimes also associated with the colors of the ocean. Indeed, the sea-foam green is one of the best colors for this Zodiac sign. As for the tones to avoid: red would be an absolute disaster for Pisces' peace of mind. 

Pisces birthstone color
The perfect palette for Pisces birthstone continues the blues and sea-related themes. Cotton Candy Blue, Lavender: those colors are prevailing shades of Pisces birthstones, including Amethyst, Aquamarine, etc. 

Pisces birthstone and flower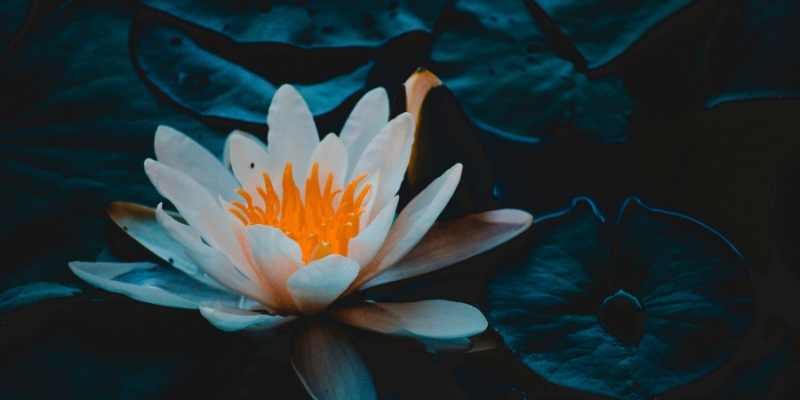 Pisces flower is a delicate lily. Under its influence, this sign gets really thirsty for all sorts of knowledge. Sometimes people born under this sign can absorb ideas and thoughts of those around them. And they can be emotionally swayed by other people's feelings too. Sometimes their emotions can run out of control, but then they can turn to natural creative abilities to get grounded. Pisces are natural-born artists.   
The main Pisces birthstones are Aquamarine and Amethyst. The sign is also influenced by Bloodstone and Ruby.

Pisces lucky stone
Pisces are being governed by Jupiter, which shares an amicable relationship with the Sun, the ruler of stone Ruby, the sign's lucky stone.
People born under this sign can wear natural Ruby for recharging energy levels, and boosting positivity and self-confidence.  

Birthstone for Pisces born in February
Amethyst has been known as a February birthstone since ancient times. And even Leonardo Da Vinci once wrote that this stone holds power to dissipate evil thoughts and quicken one's intelligence. The gem will invite positive energy into Pisces' life and help them to learn and grow. 

Birthstone for Pisces born in March
There are two most widely accepted birthstones for Pisces born in March: Aquamarine and Bloodstone.
Since Pisces can be super emotional and sensitive, sometimes it's hard for them to stay grounded. And that's when the Bloodstone comes into play. This gem is known for its soothing energy and ability to help the owner with increasing vitality and creativity. 
Aquamarine is another powerful birthstone for March-born Pisces. It shields their emotional sensitivity and provides soothing energies. This birthstone is believed to boost the wearer intuition and enhance intelligence.

Pisces birthstone jewelry
This silver necklace features quite a unique design and genuine, high-quality Aquamarine. This stone helps to enhance the resilient vitality of life and promote truthful and compassionate communication. So, any Pisces will not only get a cute birthstone necklace but much more than that: empowerment and inspiration. A lovely piece with a beautiful meaning. 

Check more reviews and current price

here

.
Gorgeous silver infinity ring with 0.61 carats genuine Ruby and round white zirconia. Ruby, ranging from pink to blood-red, represents passion, confidence, and adventure. This lucky stone for Pisces not only be drawing all the attention and compliments but also bring some courage, joy, strength, and confidence to wearer's life. Gorgeous and powerful ring. 
Check more reviews and current price

here

. 
These very unusual silver earrings feature several natural Amethysts, the powerful birthstone for all February-born Pisces. The Amethysts are of a vibrant purplish color, just the way they are supposed to be. They sparkle. The sterling silver settings are very artistic and nicely executed.
And Amethyst in them will act as a natural tranquilizer. As this stone is believed to relieve stress balance mood swings and soothe the anxiety.  
Check more reviews and current price

here

. 
The absolutely stunning and delicate little pendant features four round cut 4mm genuine African amethysts. It comes with 18″ cable necklace with a spring-ring closure, but you can wear it with any other chain. As we mentioned before this birthstones know to help Pisces to soothe anxiety and dispel all the negative energy. But it also is known to inspire creativity. So a true artistic Pisces' nature will regain some passion for anything important they are doing.
Check more reviews and current price

here

. 
Pretty stretchy natural Bloodstone bracelet. It's very well made and even comes with the gift box. Each bead is quite large – approximately 14*7mm. And since the stones are natural, its color and finish might differ slightly. However, if you are a Pisces born in March, this is one of the most precious gifts you can get for yourself. 
Bloodstone is a mighty gem, known to heighten intuition, increase creativity and inspiration and even boost the owner's courage and energy. What's not to like about it?  
Another elegant and precious option is this aquamarine bracelet.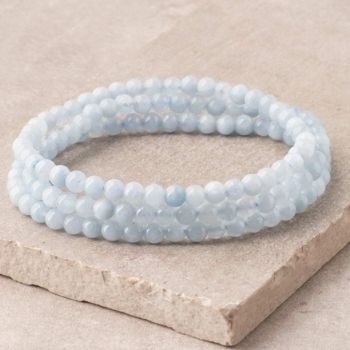 This dainty little piece can be worn as one string or several bracelets stacked together. You can even combine different birthstones to enhance the energy kick from those natural crystals.
Pisces can wear Aquamarine if they need help in getting in touch with their deepest feelings and learn to communicate it properly to the outside world.
The bracelet is available at Sivana store, an awesome spiritual gear store.
Check more reviews and current price here. 
Thanks for the blog graphics: Canva.com

Disclosure: At Buddhatooth.com we only mention the products that we've researched and considered worthy. But it's important to note that we are a participant of several affiliate programs, including but not limited to VigLink and Amazon Services LLC Associates Program, an affiliate advertising program designed to provide a mean for us to earn fees by linking to Amazon.com and affiliated sites. As an Amazon Associate Buddhatooth.com earns from qualifying purchases.