Crystals for Creativity: for Focus, Motivation, Productivity & More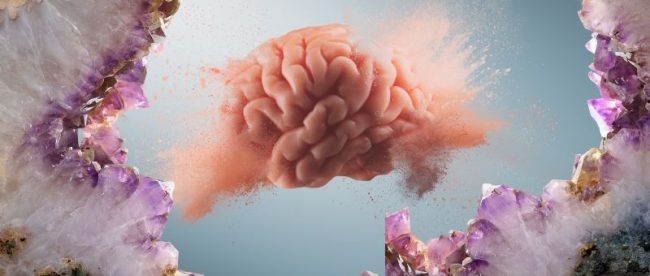 Whether you want to write a novel or paint yet another masterpiece, or just do something new with your life, creativity is essential. This quality is powered by our sacral and throat chakras, the center of communication, and self-expression. When these two energy centers are in balance and working together, they can really get your creative juices flowing. But if there are some blockages, you might struggle.
Luckily you might always ask crystals for creativity to help you. By holding on meditating with particular stones may clear the way for inspiration, focus on what you want to create, and follow through on creating it. And as you may suspect, there are way too many crystals to use. So you have to pick your stone wisely.
Are you interested in a particular topic about picking the best stones for creativity? Then use the table of contents below to jump to the most relevant section. And you can always go back by clicking on the black arrow in the right bottom corner of the page. Also, please note that some of the links in this article may be affiliate links. For more details, check the Disclosure section at the bottom of the page. 
Crystals for inspiration
Calcite 
Raw Blue Calcite. More details here. 
If you're looking to boost inspiration, Blue Calcite might be the powerful creativity stone for you. It helps you to tap into deep insights and protects you from any distractions.  It also believed to help you with the conscious exploration of the unconscious realms to cultivate numerous mindblowing ideas that you've never thought about before.  

Crystals for focus and creativity
Lapis Lazuli 
Pocket Lapis Lazuli. More details here. 
This crystal possesses strong manifestation powers. Those are in charge of balancing the throat chakra and opening the third eye. 
It inspires taking control of your life and can give you more inspiration for any creative pursuits of yours.
Also known as a Stone of Truth, Lapis Lazuli encourages honesty when you are speaking or writing. So, this is a fantastic gemstone for all the writers, lawyers, teachers, and executives out there. 

Crystals for creativity and confidence
Tiger's Eye
Large oval beads Tiger's Eye bracelet. More details here.
This crystal for creativity is known to be very grounding. It harnesses both the Earth's and Sun's energies. So it will release any fears around accomplishing a goal.
And be confident that you'll achieve what you are desiring is vital for real creativity.  This gem encourages you to take risks and explore your artistic and creative talents. It's a great choice if self-doubt is holding you back.

Crystals for creativity and productivity
Carnelian 
Charged Carnelian bracelet. More details here. 
This gem is one of the best stones for creativity. One of the reasons is because it opens up the Sacral chakra, which is deeply related to driving us in making bold choices and building new things. 
This creativity crystal is proven to eradicate all self-doubt or lack of energy and swapping them for self-expression, productivity, and a boost in energy.

Crystals for motivation and creativity
Garnet 
Natural Garnet necklace. More details here. 
Garnet is known as a very energizing stone. 
If you feel like you're being self-destructive, put this crystal on your desk or inside your pocket.  It will eradicate those negative thoughts, encourage self-expression, and also enhances your motivation.

The most powerful creativity stones by occupation 
Crystals for musicians: Chrysocolla
Natural Lapis Chrysocolla bracelet. More details here. 
This gem is known as a talismanic stone for musicians. It is an excellent stone that is known for helping to master new musical instruments or other related skills. And it's also believed to give the owner more confidence to play in public. 
Crystals for creative writing: Labradorite and Sodalite
Upright Labradorite. More details here. 
It's a powerful creative gem, allowing you to see through illusions, helping you to dream and determine the meanings of your dreams to use further in your writing process. Which makes it perfect for combating all the writer's blocks, especially for those working in science fiction or fantasy niches.
Whatever you prepared to write about Labradorite will help you with clarity, enthusiasm, and generating new ideas.
Polished Sodalite stones. More details here. 
This gem is generally considered to be a communication stone. Whether you're drafting an essay, a book or a poem working with Sodalite can help you find the words to share your message.
It is also quite useful when you need some support and guidelines in sorting through numerous (and sometimes not that great) ideas you might have.
Crystals for artists: Amethyst
Powerful Amethyst cluster. More details here. 
Finally, we've reached one of the best stones for creativity from our list. It has numerous properties that will be helpful for those struggling with handicapped imagination.
But Amethyst is especially valuable in pursuing any artistic endeavors. It brings the natural power of creativity to us and helps us visualize and invent. 
Crystals for singers: Amber and Aquamarine
Natural Amber necklace. More details here. 
This warm and very protective stone also believed to help you in keeping your cool when performing in front of a group. 
It's also known to be useful for stimulating the intellect and fast thinking. So if you are on stage and about to come up with that wild vocal improvisation, Amber will get you through it. 
Natural Aquamarine bracelet. More details here. 
This stone is associated with the throat chakra, the center of self-expression, your voice. It's known for very calming energy and will always encourage you to "go for it" when you need a nudge before or during your performance.
Some people will take the stone with them before speaking publicly to feel more confident, as it's one of the best stones for "communicators." And well, singing is a very important form of communication. So if you are a singer you might consider adding this crystal to your collection.

What is the best crystal for the creativity of all? 
Citrine 
Stretchy Citrine bracelet. More details here.
Supporting and healing the sacral chakra, Carnelians has that intense energy that boosts self-expression. It's known as a luck-bringing stone. And some believe that it's capable of increasing your courage and ability to embrace new bold ideas, breaking all the boundaries that you might have in your mind.
This makes it a fantastic stone for stimulating your creativity and awakening talents. If you are looking for one and only stone for creativity, I'd say: go with Citrine. 
Thanks for the blog graphics: Canva.com

Disclosure: At Buddhatooth.com we only mention the products that we've researched and considered worthy. But it's important to note that we are a participant of several affiliate programs, including but not limited to VigLink and Amazon Services LLC Associates Program, an affiliate advertising program designed to provide a mean for us to earn fees by linking to Amazon.com and affiliated sites. As an Amazon Associate Buddhatooth.com earns from qualifying purchases.