Pendulum Necklace FAQ: Best Material, Is It Ok to Wear, and More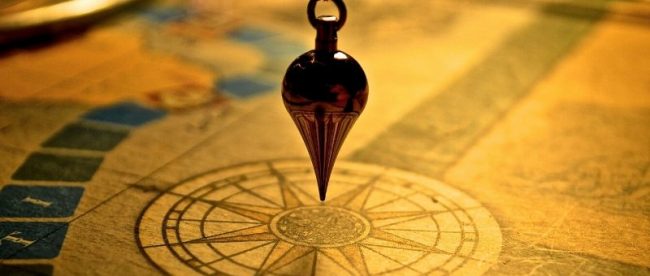 The pendulum is a small weight in the chain. Usually, this item is about 1/2 inch by 1 inch in size. The difference between the pendulum and the pendulum necklace is the fact that you can wear the latter as a piece of jewelry.

Are you interested in a particular topic pendulum necklaces? Then use the table of contents below to jump to the most relevant section. And you can always go back by clicking on the black arrow in the right bottom corner of the page. Also, please note that some of the links in this article may be affiliate links. For more details, check the Disclosure section at the bottom of the page. 
Pendulum necklace meaning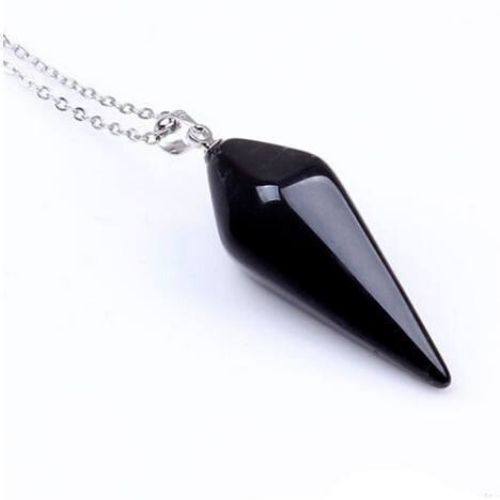 Healing pendulum necklace from AtPerry's. Read more here. 
Throughout history, pendulums were used to find water, gems, as well as other valuable objects. In Europe, early scientists and physicians would use it to identify infections of the body.
Doctors might use those pendulums to know the sex of unborn babies. It's a tool used to interact with the spirit through your higher self or the guides. This is one way that you can assertively make decisions based on the information you receive.

How does a pendulum necklace work?
Pendulum necklace works as a regular pendulum necklace. It enables you to tap into your inner intuition. Nobody knows precisely where the answers and the knowledge come from.
But one of the theories that I tend to trust most is that the pendulum isn't moved by some sort of magic. But, by the part of your mind that you can't usually communicate with very well. If we can find out how to translate the signals from the subconscious mind, we can interact with it!
It can reveal things our conscious mind is not aware of. And if we're to believe in the theory of universal consciousness and entangled minds (which I do) – our subconscious definitely knows a lot of things, way more than the conscious mind.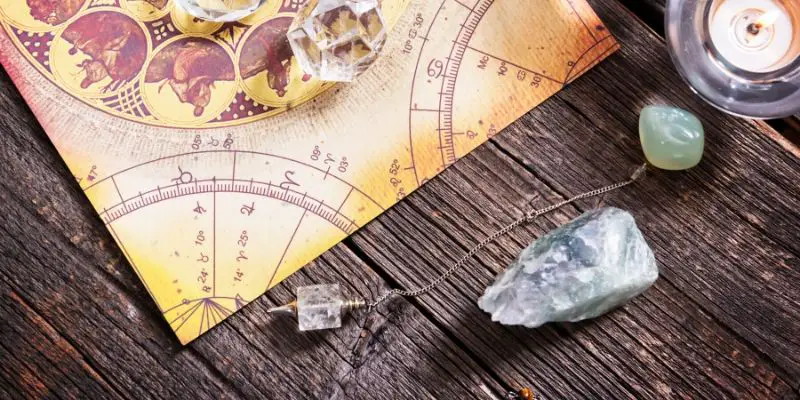 How to use the pendulum necklace?
In short, you've got to make sure you're linked to your pendulum, and it feels right. You probably need to charge and clean it, too, before you use it for the first time.
You can charge the pendulum by rubbing it with oil and water as you put your energy on it. Try to connect to your piece via meditation. 

The next step is to set up your pendulum necklace. 
To do this, hold the chain and ask,' Show me yes,' then ask,' Show me no.' Take note of the direction in which the pendulum tilts, indicating your yes and your no.
Then ask questions to test if it was working. If everything seems right, you can move forward with any other important questions that you might need some guidance.
If you want more details, restrictions, recommendations on questions, etc. I've outlined the process in my guide on pendulums. Please, be my guest and check it out! 

How to clean a pendulum necklace?
Crystals and other materials are capable of absorbing all sorts of energy and can be programmed by others. 
Your pendulum has to be your reliable dowsing tool, so you want to ensure it has zero energetic influences before you start working with it.
Here are a few options for cleansing a pendulum of negative energy (these also apply to any crystal): 
You can store your stone in sea salt for several hours. Make sure that you discard the salt later. 
You can rinse a pendulum necklace in hot water for a few seconds, then cold water… Rinse and repeat this temperature switch three times, and then you are done. But make sure that your pendulum is made of the material that can be exposed to water

Is it ok to wear a pendulum as a necklace?
Any pendulums devoted to healing are best not be worn as jewelry. If it is made of crystals, just know that its energies can be too overwhelming. So it won't be possible to wear it comfortably next to your body.
Some people are highly sensitive to the vibrations of the crystal. Crystal energies can feel too draining or, on the contrary, too heavily charged. But the wearer may not realize that it is the stone she's wearing that makes her feel out-of-sync.
So, on one side, it's quite common to see a pendulum necklace, and wearing it might be a way to form a strong bond with the piece as well. But on the other hand, it may be too overwhelming for very sensitive people.

Pink quartz pendulum necklace from AtPerry's. Read more here.

Can you use any crystal necklace as a pendulum?
Various stones might help you with different areas you might want to have more clarity, so the choice is up to you. 
For instance, rose quartz is an excellent crystal to ask questions about love and peace. 
Black crystals, like obsidian, have protection energy. You might well be drawn to an Amethyst, that offers a stronger connection with the spiritual. Clear quartz is one of the popular choices for beginners. It's associated with clarity and a higher purpose. 
But don't forget, if your pendulum is made from any type of crystal, it is required to cleanse it regularly.

What is the best crystal for a pendulum necklace?
[content-egg module=Amazon template=custom/image product="us-B07ZPVQZNL"]
Clear quartz charged pendulum necklace found on Amazon. Check the reviews about this piece here.
Clear quartz is not only popular but probably one of the best choices of crystals for the pendulum necklace.
It represents balance and completeness, which can counteract evil force and is known as the king of crystals, amplifying the powers of any other gem around.
At the same time, it doesn't have that overwhelming energy around it. It can also reduce electromagnetic radiation and protect your body from electromagnetic waves.
Thanks for the blog graphics: Canva.com

Disclosure: At Buddhatooth.com we only mention the products that we've researched and considered worthy. But it's important to note that we are a participant of several affiliate programs, including but not limited to VigLink and Amazon Services LLC Associates Program, an affiliate advertising program designed to provide a mean for us to earn fees by linking to Amazon.com and affiliated sites. As an Amazon Associate Buddhatooth.com earns from qualifying purchases.