Capricorn Birthstone: Color, Meaning, Ruby, Onyx, and Garnet Jewelry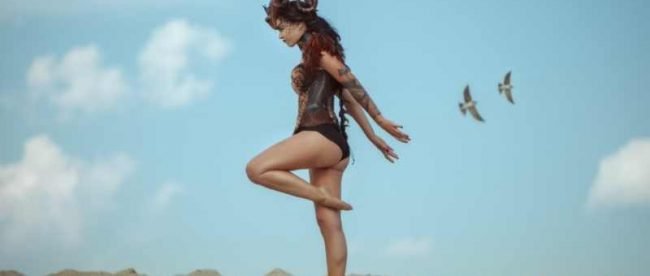 This article is a part of our ultimate birthstones series, and here we will discuss Capricorn Birthstone variations.
Are you a Capricorn? Or know someone who is? Then read on, let's find out which gemstones resonate better with sign's personality. And learn more about Capricorn's character. 
Are you interested in a particular topic about Capricorn birthstone? Then use the table of contents below to jump to the most relevant section. And you can always go back by clicking on the black arrow in the right bottom corner of the page. Also, please note that some of the links in this article may be affiliate links. For more details, check the Disclosure section at the bottom of the page. 
Capricorns: what are they like? 
If you were born somewhere between 22nd of December to the 19th of January, it means you are Capricorn.
And Capricorns are the ones who tap into their inner courage to overcome whatever stands between them and their long-term goals.
They won't let anything distract them from getting ahead.
They won't let anything distract them from getting ahead.
But Capricorn's closest friends know that these sea goats love to party.
They have numerous great traits. They are practical, responsible, ambitious, disciplined, patient, and surprisingly witty, to name a few.
On the contrary, they might be a bit condescending, pessimistic, and negative sometimes. 
That's it for now, let's move on to the Capricorn birthstone topic.

Capricorn color
Since Capricorn is influenced by the planet Saturn, sign's colors are dark brown, charcoal, and black. Those shades keep Capricorns grounded, especially when life around them seems crazy and unstable. Hues, caps have to avoid are anything too intense and bright. All those will be over the top for Capricorns. Instead of calming them down and allowing them to play to their strengths of logic and perseverance.

What color is Capricorn birthstone?
Since they are the ones born in December and January, Capricorn birthstone colors are blue and red (respectively). They also have a lucky stone Onyx. And this gem is of their preferable shade – black. 

What is Capricorn birthstone and flower?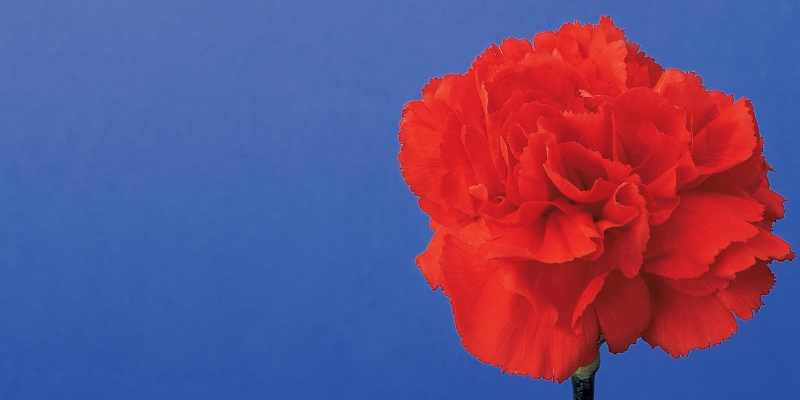 Capricorn's flower is Carnation. As Capricorns are strong-willed, driven, determined, and natural leaders. The sign embodies everything that Carnation suppose to represent in the flower world. 
Main Capricorn birthstone is Ruby that believed to offer peace of mind, courage, and mental purity. Ancients believed it surpassed all other precious stones in virtue, and its value exceeded even that of the Diamond.
Additional birthstones for Capricorns are Onyx, Garnet, Turquoise, Blue Topaz, and Lapis Lazuli. 

Capricorn lucky stone
Onyx believed to be that special lucky stone for Capricorns both in Western and Hindu astrology. It is a grounding stone that works to give the owner better control of himself. It's also believed to be one of the most powerful protective stones. Black Onyx absorbs and clears bad energy and helps to avoid the draining of personal power.
Capricorn birthstone December
Everything blue is the official color of December. And this rule also works for the birthstones of December-born Capricorns. Among sign's birth gems are Blue Topaz, Lapis Lazuli, and Turquoise. 
Blue Topaz is a stone of peace, calm, and excellent for meditation. It is also known for its manifesting properties, sometimes even called stone of love and good fortune.
Lapis lazuli is thought to boost a heightened state of consciousness and broaden outlook, thus keeping the ambitious Capricorn goal firmly grounded in fact. The birthstone of Capricorn is also believed to drive away adverse feelings, including fear and jealousy, and improve creativity.
Turquoise helps Capricorns to boost empathy and positive thinking. It is said to possess many powers. And considered a healing and protective stone that enhances courage in the wearer. On top of that, natural Turquoise is tremendously BEAUTIFUL. 

Birthstone for Capricorn born in January
For Capricorns born in January, the birthstone is garnet. This gem is a symbol of love. And it is also believed to enhance the owner's imagination, increase his or her passion, and protect against depression and destructive thoughts.

Capricorn birthstone jewelry
This ring is a true treasure and works both for male and female Capricorns! The piece looks absolutely stunning: sleek and simple. Being Capricorn birthstone this black onyx beauty not only emphasizes the owner's impeccable style but also will shield his or her from any negativity. 

Check more reviews and current price

here

. 
Another ring option – this feminine silver ring, featuring natural 2.5 carats garnet. It's very classy, heavy, and seems well built. The stone is big and beautiful. And, surprisingly, the price is also great. Garnets believed to attract Saturn's energy, the ruling planet of Capricorns. So it helps the owner prosper and lead a more harmonious lifestyle. That's quite a gift from a birthstone! 
Check more reviews and current price

here

. 
These beautiful earrings feature natural 1 carats rubies, the chief Capricorns birthstone. They say this gem is the best in helping the owner with goal setting and achieving them. The stones in the piece are heat-treated and oiled, ensuring the massive shine. Overall, outstanding value for the gems that look as gorgeous as way more expensive alternatives. 
Check more reviews and current price

here

. 
This pretty and delicate little silver necklace comes in very nice packaging (so great as a gift) and features 4 mm genuine blue topaz. This birthstone for December born Capricorns helps in achieving inner peace and also believed to increase concentration. Just perfect for GOAL-digging Capricorns. 
Check more reviews and current price

here

.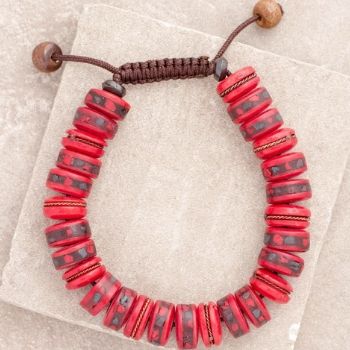 This piece is super powerful. And it's not only because of the turquoise, one of the greatest birthstones for December-born Capricorns.
It's made of Yak bone, coral, and turquoise. And this combination of materials was known and utilized in Tibet for hundreds of years for helping wearers' body to boost vitality and restore energy balance.
Combine the heritage of Tibetan monks with Turquoise birthstone benefits for Capricorns – like increasing joy, positivity and creativity – and now you know what this piece has to offer.
The bracelet is available at Sivana, an awesome spiritual gear store. And the founders were super nice to offer a 30% discount to my readers. To activate the offer you can use the code BUDDHATOOTH at the checkout.
Check more reviews and current price here.
Another option for Capricorns is this Lapis Lazuli bracelet.
Simply amazing energy made of reportedly super powerful natural gems. It features natural color enhanced (with heat) lapis lazuli. Another gem for those Capricorns born in December. Lapis Lazuli believed to promote honesty, dignity, and friendships. And it's also known as a powerful protective birthstone. 
Check more reviews and current price

here

. 
This gorgeous 2.5 heat-treated natural garnet pendant definitely will please any January born Capricorn. The gem's color is deep red. The stone size is just right: large enough to be noticed but not too big to overwhelm. And it even comes with the chain sturdy enough for everyday wear. This birthstone usually associated with willpower, capacity for work, and resilience when facing great difficulties. So if you Capricorn is up to something very challenging this pendant might be the best inspiration. 
Check more reviews and current price

here

.
Thanks for the blog graphics: Canva.com

Disclosure: At Buddhatooth.com we only mention the products that we've researched and considered worthy. But it's important to note that we are a participant of several affiliate programs, including but not limited to VigLink and Amazon Services LLC Associates Program, an affiliate advertising program designed to provide a mean for us to earn fees by linking to Amazon.com and affiliated sites. As an Amazon Associate Buddhatooth.com earns from qualifying purchases.