Turquoise Birthstone and How Sagittarius, Aquarius, and Capricorns Can Use Its Powers?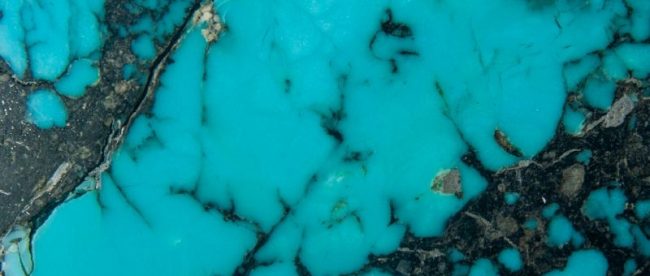 For thousands of years, turquoise has been prized and revered by various people all over the world. The color of this stone, combined with its multiple variations, makes this ancient gemstone special and quite unique. 
Are you interested in a particular topic about this birthstone? Then use the table of contents below to jump to the most relevant section. And you can always go back by clicking on the black arrow in the right bottom corner of the page. Also, please note that some of the links in this article may be affiliate links. For more details, check the Disclosure section at the bottom of the page. 
What is Turquoise?
Turquoise is an opaque mineral made from hydrated phosphate of copper and aluminum. This stone ranges in color from bright blue to various shades of green, and some of the finest grades of this stone can be quite rare. It is one of the oldest gemstones and has been used for thousands of years.

Where is turquoise found?
Turquoise is found in various areas all over the world. It can be found in dry climates, including in Mexico, Chile, Tibet, and many places in the United States, e.g., New Mexico, Arizona, and Nevada.
Various mines produce different variations in stones, and the turquoise from some mines are more rare and valuable than the gems from other mines.

How to tell if turquoise is real?
If you are purchasing turquoise, you want to make sure that you are buying the real thing and not some fake stone. While faux turquoise can actually look a lot like the real thing, there are some ways you can tell if the gem is genuine. 
For starters feel the stone, often fake turquoise has a smooth and somewhat oily feel, real turquoise feels like real stone. Genuine turquoise has natural color variations often in the same stone, fake turquoise often lacks any color variations. 
Also, if you hold the turquoise stone in your hand for several minutes and the crystal warms up, it is most likely made of plastic. To double-check, you can heat a needle and hold it to the stone, and if the stone is plastic, it will melt. 

Different types of turquoise
There are basically 5 different types of turquoise. These types include:

Natural Turquoise. Natural Turquoise is taken straight from the ground, cute and shaped, and polished to bring out the stones' natural luster. Nothing else is done to enhance its look.
Stabilized Turquoise. Stabilized Turquoise is a real turquoise that is somewhat soft and chalky. To be able to cut this turquoise accurately, a transparent resin is added to the stone. Since the stone is porous, the resins harden the turquoise making it easier to cut and hold a luster when polished.
Color-Treated Turquoise. Color-treated turquoise is a real turquoise that is soft and chalky and tends to be pale in color. This type of stone has a resin mixed with a dye added to change or brighten the tone of the crystals and make it hard enough to cut and polish. 
Reconstituted Turquoise. Reconstituted turquoise is turquoise that is really too soft and chalky to work with as it is. These stones are ground into a powder, mixed with epoxy and dyes, and pressed into a solid form.
Imitation Turquoise. Imitation turquoise does not contain any turquoise at all. It is either made from another porous stone that has had dye injected into the stone. Or is made entirely of plastic.

Interesting facts about Turquoise birthstone
Turquoise birthstones are extremely interesting birthstones. Here are some interesting facts about this birthstone. Turquoise is one of the oldest gemstones and has been used for thousands of years in jewelry. This stone is so revered that older Europeans credited turquoise with helping them reach a higher state of consciousness. 
It takes millions of years for turquoise to form. Besides, while most people think that turquoise got its name from the color of the stone. But the name actually comes from the country of Turkey. That's because ancient people believed that turquoise originated from this country.

What birthstone is turquoise?
Turquoise is the birthstone for December, making it the birthstone for the astrological signs of both Sagittarius ( November 22 to December 21) and Capricorn December 22-January 19). It is also the planetary stone for Aquarius (January 20-February 18). 

What is Turquoise birthstone meaning?
The birthstone turquoise is considered to be especially good luck to anyone with a December birthday. Wearing the stone is said to make the wearer happier and more successful as well as making them better communicators. It also protects them against supernatural and negative influences and eliminates emotional distress. 

Turquoise healing properties
It is believed that turquoise has many healing properties. This stone is known to cleanse and heal the energies throughout the body. It protects the wearer from disease and helps you to be more forgiving and compassionate. It will also help you to have a clearer understanding of yourself. 


Sagittarius and Turquoise
Turquoise is a powerful stone for those under the sign of Sagittarius, helping them achieve success, happiness, and good fortune. Turquoise protects Sagittarius from diseases and strengthens and regenerates the body and spirit. 


Turquoise birthstone and Capricorn
For those Capricorns that can claim turquoise as their birthstone, the gem believed to bring the wearer good luck. These stones have powers that help the Capricorns forgive and feel greater compassion for others. It also supposed to help them achieve good health in mind, body, and spirit.


Turquoise and Aquarius
Turquoise is the planetary stone for Aquarius and helps them reach a calmer and more relaxed mindset. This stone encourages Aquarius to feel hope, inspiration, and wisdom. It helps to improve your self-esteem and improve your ability to express yourself.

Turquoise jewelry
Turquoise birthstone necklace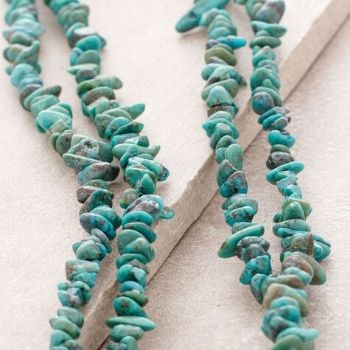 This fantastic necklace measures approximately 34 inches. So you can actually adjust the length and wear it as a long one layer string, or a shorter layered version. The piece is made of the raw turquoise, so the size of the nuggets is uneven. It varies from 5 to 10mm. All in all, the necklace is a great (and pretty) way to benefit from all the powers the birthstone offers. From clearing the mind to grounding.
Turquoise rings
[content-egg module=Amazon template=item product="us-B079K59D42″ disable_features=1 ]
Shockingly low price for this genuine Turquoise sterling silver ring. The size is right about perfect – not bulky, but not small either. And the cute paw design makes it a definite show-stopper. And a great gift not only for those zodiac signs who can benefit from Turquoise powers but also any dog enthusiast. 
Turquoise birthstone bracelet
[content-egg module=Amazon template=item product="us-B00Q0MQ5SI" disable_features=1 ]
This extra beautiful adjustable bracelet is custom made by native American craftsmen. The cord is metal, so the piece won't break easily. At the same time, it looks very feminine, not bulky at all (maximum width is ¼ of an inch). So the owner will enjoy not only the power of birthstones (it's made of genuine turquoise) but also the sound of compliments for the piece 🙂 
Turquoise pendant necklace
[content-egg module=Amazon template=item product="us-B073XY19P1″ disable_features=1 ]
This terrific well-made genuine Turquoise piece comes with a 20″ 925 sterling silver chain. So it's ready to wear out of the gift box. The pendant itself is not huge – about 1/2″ wide x 2″ tall – but big enough to make a statement, be noticed and appreciated. And the piece of turquoise used is of good quality, so be prepared to receive all the gifts this birthstone has to offer. 

Men's' turquoise ring
[content-egg module=Amazon template=item product="us-B001AM0EIA" disable_features=1 ]
This exceptional silver band is 6mm wide, making it a man-appropriate ring. It is comfortable to wear, it feels and looks incredible. And it's a real bargain for the price, considering that it's made of genuine turquoise, ensuring that the owner will benefit from all the birthstone's properties. 
Men's' turquoise bracelet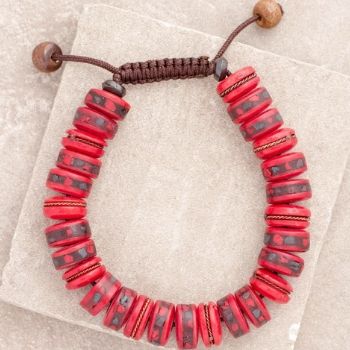 This bracelet is very manly (although it can also be worn by ladies too). And it's also very powerful. And not only because of the turquoise.

The item is made from the ancient combination of materials used by the people of Tibet for many years – Coral, Yak bone, and turquoise.
The Coral believed to bring peace from within, copper trusted to enhance the flow of energy in wears body and turquoise is thought to clear mind and boost wisdom and creativity. 
What a great gift for all Sagittariuses, Capricorns and Aquarians out there.

This bracelet is available at Sivana, an awesome spiritual gear store. And the founders were super nice to offer a 30% discount to my readers. To activate the offer you can use the code BUDDHATOOTH at the checkout. But start with checking more reviews here. You'll be blown away.
Thanks for the blog graphics: Canva.com

Disclosure: At Buddhatooth.com we only mention the products that we've researched and considered worthy. But it's important to note that we are a participant of several affiliate programs, including but not limited to VigLink and Amazon Services LLC Associates Program, an affiliate advertising program designed to provide a mean for us to earn fees by linking to Amazon.com and affiliated sites. As an Amazon Associate Buddhatooth.com earns from qualifying purchases.