Lapis Lazuli Birthstone and Its Gifts for Sagittarius, Capricorn, Libra, Virgo, and Cancer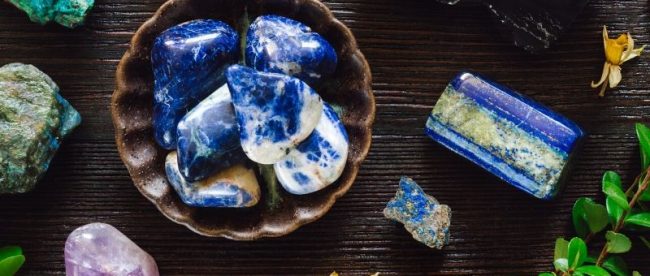 Lapis Lazuli has been a prized gemstone for thousands of years, having been mined even before the birth of Christ. It remains a popular and prized gemstone today.

Are you interested in a particular topic about this birthstone? Then use the table of contents below to jump to the most relevant section. And you can always go back by clicking on the black arrow in the right bottom corner of the page. Also, please note that some of the links in this article may be affiliate links. For more details, check the Disclosure section at the bottom of the page. 
What Is Lapis Lazuli?
Lapis Lazuli is a bright blue metamorphic rock consisting mainly of Lazurite. The stone is prized for its intense color.


Where is Lapis Lazuli found?
The main place where Lapis Lazuli is found is in Sar-e-Sang, where deposits of Lapis Lazuli have been mined for over 6000 years. This gemstone has also been found in Russia, Siberia, Pakistan, India, Italy, Chile, Argentina, as well as in California and Colorado in the United States. 


What birthstone is Lapis Lazuli?
Lapis Lazuli is considered to be one of the birthstones for December and an alternative birthstone for September and January. Lapis Lazuli is also the zodiac sign for Capricorn and influences other signs as well. It strengthens awareness of Sagittarius, Helps Libra build inner strength, and brings intuition to Virgo and Cancer.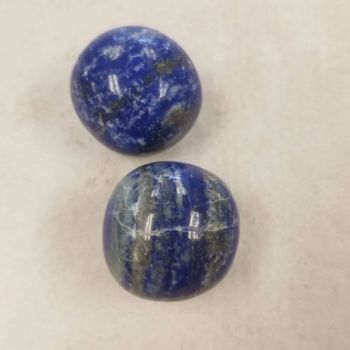 Lapis Lazuli birthstone meaning
As a birthstone, Lapis Lazuli has a wealth of meaning. This stone helps to calm you and maintain focus, cutting anger and aiding in concentration. It can also lead you to spiritual enlightenment. Linked and affecting the 3rd eye Chakra meditation with this stone expands the mind and heightens awareness. It can help to heal both mind and spirit.


Lapis Lazuli healing properties
Lapis Lazuli has many healing properties. This stone is known to protect against psychic attacks, releases stress, and encourages self-awareness and self-expression. Lapis Lazuli also believed to stimulate clarity, promote creativity, and even boost the immune system.
It is also beneficial to both your Nervous and respiratory systems. 

Sagittarius and Lapis Lazuli
Lapis Lazuli has a profound effect on Sagittarius helping them to achieve their goals and bringing good fortune in all that do. When Sagittarius wears this stone it helps them dispose of overwhelming dark emotions and negativity. It helps Sagittarius strengthen their awareness and helps balance liquids in the body, as well as their hormone and PH levels helping to keep the Liver healthy.


Lapis Lazuli birthstone and Capricorn
When Capricorn accepts the Lapis Lazuli as it's birthstone, great things can happen for people born under this sign. The power of this stone will help most Capricorn improve the quality of their life.
When worn, you will experience more improvement in your awareness of self and those around you. This stone can help you to reduce negative feelings while improving your creativity. For those who seek spiritual enlightenment, this stone can help you to achieve that goal.
Ancient healers believed that if the stone was worn as a necklace near your throat and chest and can aid in the speedy recovery of colds, laryngitis, and other illnesses of the throat and chest.


Lapis Lazuli and Libra
Lapis Lazuli has a powerful and positive influence over Libras. This stone helps the Libra look into themselves to discover their own destiny.
Lapis Lazuli can help the Libra to enlighten their soul and help heal themselves from within. It also allows Libras to build their inner strength and provides them with protection for negativity.


Virgo and Lapis Lazuli Influence
Lapis Lazuli also has a reasonably strong influence over Virgos, helping them to develop their intuition. And removing distractions that can interfere with the Virgo becoming more in tune with themselves.
It can help Virgo rest more peacefully. Since Virgos sometimes tend to be shy, the Lapis Lazuli can help Virgo express themselves more freely. 


While Lapis Lazuli is not one of the significant gemstones for Cancer, and this stone has an effect on the third chakra. The 3rd chakra is associated with the mind, ideas and thoughts and intuition helping Cancer feel more centered and balanced and connected with oneself. It aids in the mental fitness of Cancer. 

Lapis Lazuli jewelry
Lapis Lazuli necklace
[content-egg module=Amazon template=item product="us-B073XPQ7MP" disable_features=1 ]
The pendant of this necklace is made of raw Lapis Lazuli, which is the best way to go if you intend to harness the most power of the birthstone. 
You will also get a silver-plated 18 inches long chain and adjustable leather cord with it. That makes the item very wearable out of the box (and pretty much suitable for any occasion or wardrobe style).
Known as a stone that stimulates wisdom and intuition, Lapis Lazuli is the best birthstone for those who are a bit lost in life. So if you are looking for some guidelines to move on with your goals, Lapis Lazuli can be perfect for you. 
Lapis Lazuli earrings
[content-egg module=Amazon template=item product="us-B01N52R7HP" disable_features=1 ]
Great little silver earrings featuring genuine golden-veined Lapis Lazuli. Since the gem is real, you might expect each and every pair would be slightly unique, both in shape, stone texture, and shade. The craftsmanship of this piece is exceptional.
But you get not only the pair of perfect studs (those are about 0.35 inches in diameter) but also all the gifts that Lapis Lazuli has to offer. It'sIt's known as one of the most ancient spiritual crystals used by healers and priests. During those old times, the gem was utilized to bring wisdom and peace to the owner. And there can never be enough of both even today.

Lapis Lazuli ring
[content-egg module=Amazon template=item product="us-B01MR7CWVQ" disable_features=1 ]
This ring is quite unusual. The setting and overall look is beautiful, and the craftsmanship is of very high quality. It also reported being durable and very comfortable to wear. 
So if rings are amongst the jewelry pieces, you prefer then this one can be a great option to harvest the power of your Lapis Lazuli birthstone. 
Lapis Lazuli bracelet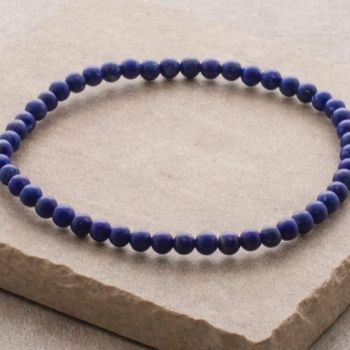 Those pretty little bracelets are perfect to wear as it is or combine with another crystal string bracelets for an extra gem power kick. Sagittarius, Capricorn, Libra, Virgo, and Cancer will definitely appreciate this Lapis Lazuli piece as the gem believed to influence people born under those signs.
Lapis Lazuli is also known as a gem of inner power. It is believed to help the owner to increase his or her intuition. And find the way in the quest to achieve all the life goals. So it's definitely a great birthstone to keep around. 
This piece is available at Sivana, an awesome spiritual gear store.
Thanks for the blog graphics: Canva.com

Disclosure: At Buddhatooth.com we only mention the products that we've researched and considered worthy. But it's important to note that we are a participant of several affiliate programs, including but not limited to VigLink and Amazon Services LLC Associates Program, an affiliate advertising program designed to provide a mean for us to earn fees by linking to Amazon.com and affiliated sites. As an Amazon Associate Buddhatooth.com earns from qualifying purchases.