Onyx Birthstone: What Can It Bring to Scorpios, Capricorns, and Virgos?
Today Onyx doesn't have that much of an importance. Still, in ancient times, this stone was held in high esteem and believed to be a mighty stone with many healing properties. In some cases, the power of this stone is sometimes considered to be positive and sometimes negative. And that's what makes it so mysterious when it comes to having this crystal as a birthstone. 
Are you interested in a particular topic about this birthstone? Then use the table of contents below to jump to the most relevant section. And you can always go back by clicking on the black arrow in the right bottom corner of the page. Also, please note that some of the links in this article may be affiliate links. For more details, check the Disclosure section at the bottom of the page. 
What is Onyx, and where does it come from?
Onyx is a chalcedony stone. And it's a variety of Microcrystalline quartz. It's considered to be a sedimentary rock that is formed when silica is deposited in lava gas cavities. Since ancient times, Onyx was supposed to be a powerful stone with many healing properties. This gem is beautifully textured and black in color.
Most commonly, it's found in Brazil, Uruguay, India, and the state of California in the United States. 

What color is Onyx?
When referring to the onyx gemstone, you usually are speaking of an all-black stone or white banded stone against a black background. When polished, this stone is a beautiful deep black color.

What birthstone is Onyx?
Most importantly, Onyx is known as the birthstone for the astrological sign of Leo (from July 23 to August 22). Onyx has a strong affinity with this sign. And is known to tone down Leo's natural over the top exuberance.
Therefore people of this sign can establish more self-discipline and control. Onyx helps Leo to accomplish their goals while assisting them in channeling their energy so that they are more focused and in control of any situation.
The Onyx is also connected with Virgos (from August 23 to September 22) and Scorpios (from October 23 to November 21). The gem helps both signs to achieve maximum success in owners' endeavors. Besides, according to the old Tibetan calendar, the Onyx is considered to be the mystical birthstone for Capricorn (from December 21 to January 19).

What is Onyx birthstone meaning?
As a common birthstone for several zodiac signs, Onyx helps the owners to maintain focus, enhance memory, and accomplish their goals more quickly. 
It also believed to help reduce stress and bring a little reason to the emotion of love. It also impacts several energy points of our body: first, third, and sixth chakras. That's why this gem is also so loved by crystal healers. 

Onyx spiritual meanings
Black Onyx is considered to be quite a magical stone. It is associated with being grounded and enhancing and channeling energies. This stone is often attributed to helping to banish grief, increasing self-control, helping to strengthen courage, stay positive, and making decisions.

Onyx healing properties
The Onyx is said to have many healing properties, including a positive impact on the immune system and overall body vitality. Healers from ancient times believed that Onyx helped treat bones, blood, and even teeth.  

Capricorn and Onyx birthstone
Onyx is considered to be a mystical and unique birthstone for Capricorn (from December 21 to January 19). This birthstone is said to ground Capricorn helping them to have better control over themselves. It is believed to clear and to absorb any bad energy surrounding the Capricorn preventing bad energy from draining the Capricorn of their personal power. 

Onyx as a birthstone for Scorpio
The Onyx is a powerful birthstone for Scorpios (from October 23 to November 21). It helps them to focus so that they can achieve better success. The black Onyx also offers Scorpios some protective properties. And serves as a healing and grounding stone for this sign.
While the healing and grounding properties of the Onyx are not as powerful for the Scorpio and they are for the Leo or even the Capricorn, they are no less beneficial. 

Onyx birthstone jewelry
Onyx birthstone ring
[content-egg module=Amazon template=item product="us-B073J4F4J7″ disable_features=1 ]
Imagine this sleek looking ring on your finger. It wears comfortably (true to the size), it's lightweight, elegant, but simple, and mysterious at the same time. And as soon as you'll put it on you might experience that birthstone's powerful energy kick. An amazing gift that will keep working on grounding and protecting all Scorpios, Virgos and Capricorns out there.  
Onyx birthstone necklace
[content-egg module=Amazon template=item product="us-B01A12CQ4Y" disable_features=1 ]
This silver necklace is everything any birthstone believer can dream of. The chain itself is somewhat fragile but still sturdy (it's 18 inches long, in case you were wondering with 4 inches extension). The pendant itself looks extremely sophisticated and provides all the benefits that Onyx birthstone has to offer. Grounding and purifying energy will give the owner a break from a busy hectic modern life and let the wearer feel more present and happier. 
Onyx birthstone earrings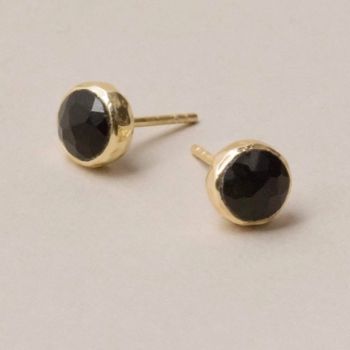 Ask yourself, have you ever felt completely deflated after yet another day full of work and errands to run?
When that overwhelming tiredness completely shuts you off and you sense that you can't make even one more tiny move. Maybe a cold shower or a run will help, but there's no energy left in your body. 
There's nothing wrong with you. It's just our life when we are exposed to all the artificial lighting, unnatural loud sounds and noises all day long.
The best option would be to take a vacation and spend a week (or a month?) near the sea or in the woods. But we are not always allowed or have an immediate resource to do that. 
One possible solution can be utilizing the power of Onyx and it's grounding energy that anyone might need to clear yourself from all that DNA-changing flow of information.
This stone is known to help in connecting with the natural electromagnetic field of the Earth.
And maybe it won't feel the same as a 1-month retreat in the forest it certainly might bring a comforting relief. And these earrings might be one of the most precious and beautiful ways to utilize onyx's strength. 
Onyx birthstone bracelet
[content-egg module=Amazon template=item product="us-B06XXFN62T" disable_features=1 ]
This great-looking bracelet will work perfectly both for men and women thanks to its sleek, aesthetically-pleasing unisex look. This piece features not only grounding onyx birthstone but also a red tiger eye, known to enhance creative energy flow and guarding the owner against negative self-talk. 
On top of it, another great thing about this bracelet is that it feels way less bulky than any typical bead bracelet. And the craftsmanship is impressive. The bracelet is definitely build to last (and be comfortable in wearing). 
Thanks for the cover photos: Canva.com

Disclosure: At Buddhatooth.com we only mention the products that we've researched and considered worthy. But it's important to note that we are a participant of several affiliate programs, including but not limited to VigLink and Amazon Services LLC Associates Program, an affiliate advertising program designed to provide a mean for us to earn fees by linking to Amazon.com and affiliated sites. As an Amazon Associate Buddhatooth.com earns from qualifying purchases.