Tourmaline as a Birthstone: Here's What This Gem Is Capable of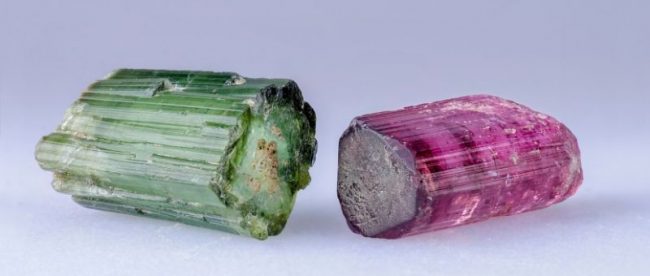 Tourmaline is one of the most colorful of all gemstones. Its possible shades include white, clear, red, green, blue, yellow, orange, brown, pink, purple, gray-black, and even watermelon. But most importantly, this gem has immense power and believed to impact the life of the owner on a very profound level. 

Are you interested in a particular topic about this birthstone? Then use the table of contents below to jump to the most relevant section. And you can always go back by clicking on the black arrow in the right bottom corner of the page. Also, please note that some of the links in this article may be affiliate links. For more details, check the Disclosure section at the bottom of the page. 
What is Tourmaline, and where does it come from?
Tourmaline is a combination of several minerals. Elbaite is a member of the group of stones known as Tourmaline, and it's this mineral that is responsible for most of the gem varieties. However, black Tourmaline comes from Schorl. 
Large varieties of Tourmaline deposits are discovered in Brazil, Sir Lanka, and South Africa. This gemstone can also be found in Nigeria, Mozambique, Kenya, Tanzania, Madagascar, and other countries. Deposits of Tourmaline are also located in the United States, particularly in Maine and California.


What color is the Tourmaline Birthstone?
Tourmaline occurs in a wide range of colors. But only the pink Tourmaline should be counted as the October birthstone. However, black Tourmaline is also used by anyone who wants to take advantage of its healing benefits. Even Scorpios born in October. Because one of their lucky colors is black. 


How do you tell if Black Tourmaline is real?
With many black stones looking somewhat alike at first glance, many people want to know how to tell if black Tourmaline is real. Identifying Black Tourmaline is not as hard as most people think. For starters, Black Tourmaline is hard to the touch. And it has striations that run up and down the body of the stone. 
This stone is of a rich black opaque color, and in bright light, you may see glimmers of red in its surface. If the stone is polished, you won't be able to see the striations, but the stone will have a pearly vitreous appearance. 


How to activate Black Tourmaline?
To enjoy all the benefits of black Tourmaline, you will need to activate the gemstone. Start by clearing the stone of past energy. Place the gem in a bowl of spring water and add a couple of teaspoons of the sea salt. And allow the crystal to soak in the liquid for 24 hours.
Once the stone is cleared, you can activate simply by holding the Tourmaline in your hands and state your intentions out loud. 


What birthstone is Tourmaline? 
Tourmaline is the birthstone for October. And also one of the astrological birthstones for Libra (from September 25 to October 22) and (from October 23 to November 22). It provides these two astrological signs with many benefits, including being able to both negative energy and opening you to positive energy. Libras and Scorpios can wear Tourmaline to reduce emotional pain and to calm negative thoughts. 


Tourmaline birthstone meaning
Tourmaline's birthstone meaning is soothing and calming and promotes spirituality as well as communication. It also fosters communication and a sense of peace. Tourmaline believed to help to encourage better listening and understanding and instills confidence. It also has some healing benefits, as well. It's used as an aid for the digestive system and strengthening teeth and bones. Also, ancient healers utilized it for helping to heal emotional pain.


Black Tourmaline properties
Black Tourmaline is known as a powerful protective gemstone. It shields the owner from negative energy and allows for the flow of positive energy and thinking. It also increases physical strength and releases stress. 

Pink Tourmaline properties
One of Pink Tourmaline's most magnificent properties is that it believed to promote empathy and help the owner to develop better listening and understanding skills. Many individuals who fall under this birthstone become healers, therapists, and counselors. Pink Tourmaline also believed to reduces emotional pain and ease negative emotions while instilling confidence and helping to overcome fear. 


Libra and Tourmaline as a birthstone 
Tourmaline, as a birthstone for Libra, opens up the thinking and neutralizes energy blockages. That leads the Libra to have more vitality and increasing the love of their fellow humans. Tourmaline helps Libra to feel more compassion for others. 

Tourmaline birthstone and Scorpio
Tourmaline is a birthstone for Scorpio that helps them to maintain self-control while blocking negative energy. And it also thought to be shielding Scorpios from outside negative influences. It assists in promoting better communication and understanding in people born under this sign. And helps to ease those suffering emotional pain resulting in the Scorpio being happier. 

Tourmaline birthstone jewelry
Tourmaline birthstone ring
[content-egg module=Amazon template=custom/image product="us-B015NB3DFE"]
This dazzling pretty little ring features pink tourmaline and cubic zirconia and is made of silver. The shape is perfect making it appropriate for everyday wear (and not clinging to anything, so you don't have to worry that it might ruin your favorite tights). It has a great spark and comes in very attractive packaging, making it a great present for beloved Libra or Scorpio. 
Tourmaline birthstone bracelets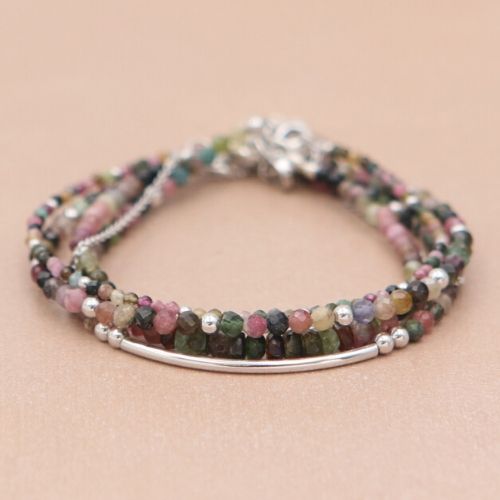 Gorgeous tourmaline bracelet from Buddhagrove. More reviews here.
Tourmaline is known as one of the most potent protective crystals of all. And can be a great fit not only for specific zodiac signs (Scorpios in particular) but any person who is eager to benefit from gem's energy. This little stretchy bracelet can be a great (and inexpensive) way to give this crystal a try. Believed to heal the owner on emotional and physical levels, tourmaline is capable of turning negative energy into positive. And we all can benefit from a positivity kick. 
Black tourmaline necklace
[content-egg module=Amazon template=custom/image product="us-B07TRBRBDQ"]
This necklace is very special since it includes not one, but two pieces of raw black tourmaline (about 1.5 inches each, but since it's natural stone every crystal is unique and different).
You can keep both stones for yourself or share the crystal's protective powers with anyone you know (and love). Not to mention the necklace itself is beautiful and comfortable even for everyday use. Great bargain! 
Thanks for the blog graphics: Canva.com

Disclosure: At Buddhatooth.com we only mention the products that we've researched and considered worthy. But it's important to note that we are a participant of several affiliate programs, including but not limited to VigLink and Amazon Services LLC Associates Program, an affiliate advertising program designed to provide a mean for us to earn fees by linking to Amazon.com and affiliated sites. As an Amazon Associate Buddhatooth.com earns from qualifying purchases.