Chevron Amethyst: Meaning, Properties, Origin, & How to Use It?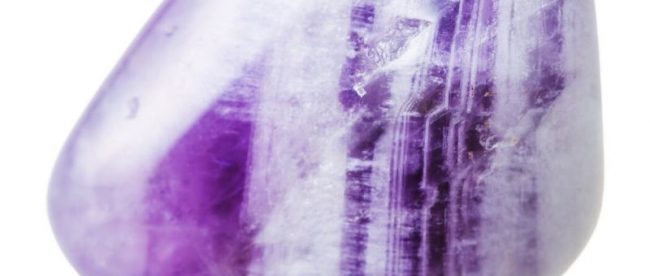 Chevron Amethyst is one of the natural types of Amethyst. It's a crystal mixture with white Quartz that can be recognized by the v-banded or striped patterns. In some stones, the white stripes are distinctive, while it can be are a little fainter in others. Chevron Amethyst is also called banded or Dogtooth Amethyst. But is it any different from traditional Amethyst? And what kind of powers does this crystal possess? 
Are you interested in a particular question about Chevron Amethyst? Then use the table of contents below to jump to the most relevant section. And you can always go back by clicking on the black arrow in the right bottom corner of the page. Also, please note that some of the links in this article may be affiliate links. For more details, check the Disclosure section at the bottom of the page. 
Chevron Amethyst origin
[content-egg module=Amazon template=custom/image product="us-B0721KQLJJ"]
Tumble Chevron Amethyst. Found it here. 
Chevron Amethyst is only formed in a few countries, including India, Russia, Brazil, and Africa. Other deposits are found in Canada, Madagascar, Mexico, Sri Lanka, and the United States. Chevron Amethyst is often found in areas where regular Amethyst is found.

Chevron Amethyst Vs. Amethyst
Amethyst is a purple variety of Quartz. The purple color comes from iron impurities and sometimes other transition metals. Amethyst is known for its calming qualities and its virtue of beauty, humility, and spiritual balance. Chevron Amethyst combines the properties of white Quartz with purple Amethyst, which makes it even more powerful stone to own.

What does Chevron Amethyst do?
[content-egg module=Amazon template=custom/image product="us-B07QZ1Y671″]
Chevron Amethyst prism wand. Found it here. 
Chevron Amethyst combines the strengthening qualities of Quartz with the stress-relieving qualities of Amethyst. Chevron Amethyst is believed to encourage drive, inspiration, and even motivation. It is further said to help you overcome any resistance to change in your life.

Chevron Amethyst meaning
Chevron Amethyst is believed to improve self-discovery, peace of mind, and the ability to relax. It helps the user to carry inner strength and courage. It also forms a powerful healing field around its owner. It is great for cleaning aura and believed to help to improve the immune system.

Chevron Amethyst properties
[content-egg module=Amazon template=custom/image product="us-B078WTSLFT"]
Heart-shaped pocket stone. Found it here.
Chevron Amethyst provides general protections and enhances problem-solving. It helps to repel negativity and promotes spiritual accession while raising energetic spiritual vibrations. This gemstone helps you to gain clarity of thought and insight, helping the owner to make decisions more quickly.
This Chevron Amethyst promotes spiritual and personal growth in various areas of your life and helps to strengthen your physic abilities.
Chevron Amethyst also helps to relieve stress and calm an overactive mind.
It is further believed that Chevron Amethyst can help you to heal your past traumas by helping your spirit rise above those traumas.

You might also like:
How to use Chevron Amethyst for sleep?
It is believed that keeping Chevron Amethyst by your bedside can help you get a good night's sleep because it reduces insomnia and nightmares. It also aids in relaxation by reducing stress and calming anxiety. When you feel less stressed, you are more likely to get a peaceful night's sleep.
But don't forget, Amethyst, in general, is a very potent crystal. So the stone you are using for night time has to be small. Or you might also want to keep it a bit farther from your bed. Are insomnia and nightmares something you are very well familiar with? Then you might want to check my guide "Crystals for sleep" for more information. 

How to cleanse Chevron Amethyst?
[content-egg module=Amazon template=custom/image product="us-B01AVN7CP6″]
Cleansing crystal Selenite. Found it here. 
The best way to cleanse Chevron Amethyst is by giving your gemstone a warm salt bath. Fill a bowl with warm water and add 1 or 2 tablespoons of sea salt. Gently place the crystals in it and let them soak. It is said that the salt pulls out energy that should not be in the stone.
You can also use a Selenite stone to cleanse and recharge your Chevron Amethyst crystal.

Chevron Amethyst Jewelry
The variety of shades of purple found in Amethyst, combined with its stripes of White Quartz makes Chevron Amethyst perfect for use in jewelry, including necklaces, bracelets, and earrings. Here is a look at some beautiful and affordable Chevron Amethyst jewelry.
Chevron Amethyst necklace
[content-egg module=Amazon template=custom/image product="us-B071HBZNQP"]
Necklace with charged Amethyst pendant. Found it here. 
A Chevron Amethyst necklace will allow you to wear this beautiful healing stone near your heart.
This beautiful charged crystal pendant is handmade and comes along with a heart-shaped selenite crystal. So you can recharge this and other pieces at any time. It's about an inch to an inch and half long and is shaped like an upside-down obelisk and comes with a 20-inch silver chain.
This Chevron Amethyst is certified 100% natural with a metaphysical information card and instructions. The necklace is the perfect jewelry choice for those who want to soothe hurt and anxiety. It is also believed that the Chevron Amethyst brings you closer to a higher power and can calm you in times of stress.

Chevron Amethyst bracelet
[content-egg module=Amazon template=custom/image product="us-B077G6QWRX"]
Charged Chevron Amethyst bracelet. Found it here. 
This beautiful 7-inch Chevron Amethyst 8mm bead bracelet is strung on a stretchy band. Made from natural tumbled and polished crystals come in a handy gift box with Selenite. So your bracelet comes fully charged. You can also put your bracelet back into the box to cleanse and recharge it.
This piece will make a lovely piece of jewelry while providing you with the benefits of both white Quartz and Amethysts. Chevron Amethyst is believed to help you balance your emotions as well as give courage and aid you in making decisions. And that's just one of many crystal's properties. 

Amethyst Chevron palm stone
[content-egg module=Amazon template=custom/image product="us-B007HXHNHQ"]
Gorgeous palm stone. Found it here. 
A palm stone is a stone cut to fit into the palm of your hand, and it's believed to focus your energy significantly. It is thought that using Amethyst Chevron palm stone, you'll be able to open your mind for more active spiritual growth. This stone will also repel negativity.
 This crystal is 1.97 inches wide, 0.39 inches deep, and 2.76 inches long. It is beautiful with its distinctive white pattern and is perfect for carrying it with you in your pocket or purse.

Thanks for the blog graphics: Canva.com

Disclosure: At Buddhatooth.com we only mention the products that we've researched and considered worthy. But it's important to note that we are a participant of several affiliate programs, including but not limited to VigLink and Amazon Services LLC Associates Program, an affiliate advertising program designed to provide a mean for us to earn fees by linking to Amazon.com and affiliated sites. As an Amazon Associate Buddhatooth.com earns from qualifying purchases.