Lodolite: Meaning and Usage of this Shamanic Dream Stone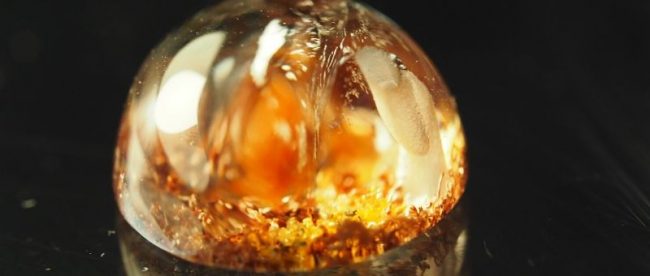 Lodolite comes by many names – from Garden Quartz and Ghost Quartz to Inclusion Quartz and Shamanic Dream Stone. This kind of Quartz is created by including many other minerals and can look very different. But how about its properties? And how are shamans related to this stone? Read further to know it all. 
Are you interested in a particular question about Lodolite? Then use the table of contents below to jump to the most relevant section. And you can always go back by clicking on the black arrow in the right bottom corner of the page. Also, please note that some of the links in this article may be affiliate links. For more details, check the Disclosure section at the bottom of the page. 
What is Lodolite Quartz?
[content-egg module=Amazon template=custom/image product="us-B083CVZB7F"]
Lodolite ring. Found it here.
"Lodolite" came from Greek and translated literally means "muddy stone." Because in a sense Lodolite is muddy, with inclusions of many other minerals, e.g. Feldspar, Hematite, Chlorite, and many more.
Those inclusions create whirls of colors and incredible patterns inside Lodolite. That's why this stone is so mesmerizing to observe. These crystals are mostly mined in Brazil, in Minas Gerais region along with other kinds of Quartz.

Is Lodolite natural?
Yes, it is. Usually, it is discovered in a Clear Quartz. And Lodolite inclusions can range in colors.  

Why do they call Lodolite as Shamanic Dream Stone?
[content-egg module=Amazon template=custom/image product="us-B07D1G61S6″]
Lodolite palm stone. Found it here. 
In general, any stones shamans will use are supposed to be a great help with visualization. They enable the owner to connect and communicate with the Spirits.
Thanks to hypnotizing appearance, Lodolite is known as one of the most common crystals used to enhance daydreaming. These gems are like a portal into another dimension for Shaman. They are used to traveling into the other worlds, enhancing visions, and guiding their sleep.

Lodolite: meaning and benefits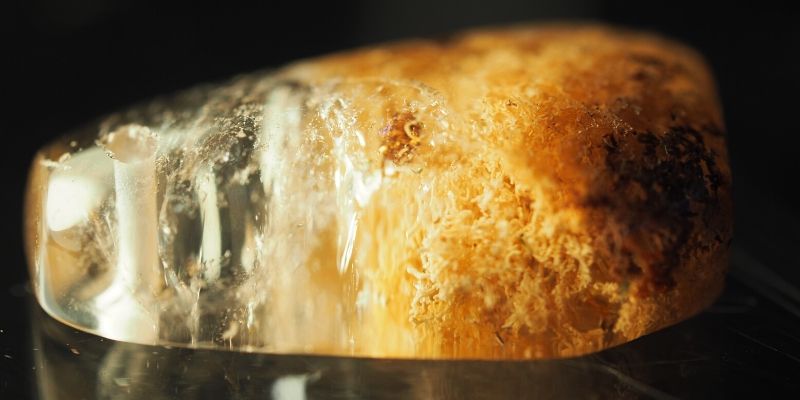 Lodolite is often recognized by its gentle and soft energy it can transfer to people. This energy can put the owner into a deep meditative state. That's why it's so commonly used as a meditation tool. It may heal and soothe you in many ways. It believed to help to manifest your desires and enhance communication with people. 
Meditating with Lodolite is believed to bring some guidance from spirits. Or you can just hold this amazing crystal in your hands to use it as a visualization tool and to embrace it's overseeing energy.  

Lodolite metaphysical properties
[content-egg module=Amazon template=custom/image product="us-B07ND4ZB34″]
Lodolite energetic cube. Found it here. 
Lodolite is believed to attract energies that will help to purify your spirit. It may also protect you from any toxic vibrations around you. As it's essential to be free of negativity to attract positive thoughts, events, and energies. There are plenty of other metaphysical properties of this stone. For instance, it believed to help in: 
Improving spiritual growth 
Healing emotional traumas
Manifesting wishes and desires, and that's just to name a few. 

Healing properties of Lodolite
Lodolite also believed in doing a lot of healing. Some thought it may strengthen the immune system. It is also recognized as a natural antiviral remedy for boosting the body's anti-inflammatory processes. Some even find this crystal beneficial for the well-being of thymus glands – including thyroid and pineal glands.
You might also like:

Lodolite is usually linked with the Crown Chakra, responsible for bringing empathy and awareness to everyday life. When balanced, this chakra guides to enlightenment and inspiration. And that what we are all striving for, isn't it? 

Lodolite Jewelry
Lodolite Pendant 
[content-egg module=Amazon template=custom/image product="us-B07L7W5DZ4″]
This absolutely gorgeous Lodolite pendant is molded in 925 sterling silver. The stone comes from Brazil, and the piece itself is crafted by jewelry makers from Arizona.
The crystal is quite big – 1.00″ W X 1.00″ H X .4″ D – and will definitely attract some compliments. But most importantly, you will get the advantage of utilizing all Lodolite's healing properties.
It believed to bring you all those good energies and help to manifest your desires and might even accompany you on a shamanic journey.

Lodolite ring
[content-egg module=Amazon template=custom/image product="us-B07SY8XY81″]
An absolute stunner of a ring. It's made of silver and also adjustable in size. So you can wear it on any finger you want. And gorgeous Lodalite will offer you a window into another dimension. I can totally see how gazing in this particular gem's surface can promote a cosmic shift of consciousness and stimulate lucid dreaming, meditation, or spiritual journey. 

Thanks for the blog graphics: Canva.com

Disclosure: At Buddhatooth.com we only mention the products that we've researched and considered worthy. But it's important to note that we are a participant of several affiliate programs, including but not limited to VigLink and Amazon Services LLC Associates Program, an affiliate advertising program designed to provide a mean for us to earn fees by linking to Amazon.com and affiliated sites. As an Amazon Associate Buddhatooth.com earns from qualifying purchases.