Ruby Fuchsite: Meaning, Healing Properties & How to Use It?
Ruby Fuchsite is known as an excellent emotional support healing crystal and a huge help during challenging times. This Ruby mix provides a boost in strength and courage (that's one of most common's Ruby's properties, which is a great Capricorn birthstone, by the way). But it also has a relaxing vibe to it thanks to the Fuchsite. But there's more, of course. 
Are you interested in a particular question about Ruby Fuchsite? Then use the table of contents below to jump to the most relevant section. And you can always go back by clicking on the black arrow in the right bottom corner of the page. Also, please note that some of the links in this article may be affiliate links. For more details, check the Disclosure section at the bottom of the page. 
What is Ruby Fuchsite? 
Ruby is red corundum, and Fuchsite is a type of chromium oxide mineral. Ruby Fuchsite is a mix stone made of Ruby and green Fuchsite.

. 
Where is Ruby in Fuchsite found?
This stone is generally found in southern India. And it is believed that only the stones originating from here have the healing properties associated with the crystal. 

You might also like:
Difference between Ruby Zoisite and Ruby Fuchsite
In case you didn't know already, distinguishing between Ruby in Fuchsite and Ruby in Zoisite is somewhat tricky. And the task gets more challenging if the Ruby in Fuchsite comes with a darker green shade. 
Ruby in Fuchsite represents the green type of muscovite mica. It has a green color, which can range from light to emerald green. The best way to identify Ruby in Fuchsite is to look for the white coloring around the Ruby. Another distinguishing mark is that Ruby in Fuchsite usually features Blue Kyanite around the Ruby. This coloration is specific only for Ruby in Fuchsite.
Ruby in Zoisite is known as anyolite, and it has a black shade.
[content-egg module=Amazon template=custom/image product="us-B005KFFNU2″]
Tumbled Ruby Zoisite. Found it here.
 In most cases, a fake stone will be sold under this name. You can tell if it is authentic by positioning it under a UV light. It will glow under such light. 

Ruby Fuchsite meaning and benefits
Ruby Fuchsite is a stone of balanced self-love and strength. Some of its main benefits include the fact that it brings courage, strength, peace, and positive vibes. Also, Ruby Fuchsite removes negative thoughts and cleansing our lives from lingering emotional baggage. 

Metaphysical properties of Ruby Fuchsite
Ruby in Fuchsite boosts the connection with the spiritual world. It is excellent for reaching out to the spiritual realm. And the mix of those two complementary stones activates the crown chakra. As such, it is your ally in achieving a deep state of meditation. 

Ruby Fuchsite healing properties
[content-egg module=Amazon template=custom/image product="us-B07KNC4FH6″]
Cleaned and charged Ruby Fuchsite palm stone. Found it here. 
One of the main healing properties of Ruby Fuchsite is for heart health. It is thought to offer vitality and physical strength, along with relief for chronic conditions. Also, some people believe this crystal can help with sleep problems.
Another healing property of Ruby Fuchsite is related to mental health. From ancient times, wearing Ruby Fuchsite was associated with inner calm. Some believed that this stone might offer a sense of calmness and emotional healing. Moreover, it might promote truthfulness and courage, along with an open mind toward solving relationship problems. 

How to use Ruby Fuchsite?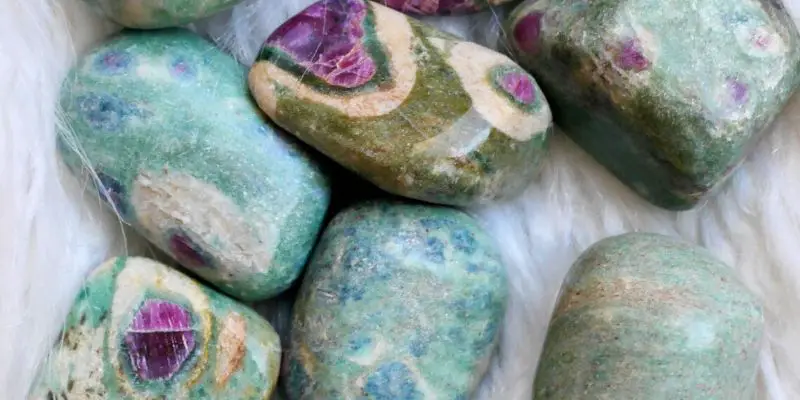 One of the best ways to use Ruby Fuchsite is to keep it in your home or office. In this way, its powerful healing energies will surround your environment. You can position it in the room where you relax after a day at work. But you can also wear it on your body to shield yourself for external negativity and balance your chakras. 

Which chakra is Ruby Fuchsite associated with? 
It is believed that Ruby Fuchsite is associated with the heart, throat, and crown energy points. Hence, it is an excellent chakra stone to have around to build a sense of energy and balance. 

Ruby Fuchsite jewelry 
Ruby Fuchsite necklace
[content-egg module=Amazon template=custom/image product="us-B01D9B9KXE"]
Handmade Ruby Fuchsite necklace. Found it here. 
One of our top recommendations for Ruby Fuchsite jewelry is this necklace. For instance, this one comes with a Ruby Fuchsite natural green and pink crystal, making it rather unique. It can be used with all sorts of styles or outfits, so you can rest assured you can access the benefits of this crystal at all times.
Wearing this necklace might aid you in healing your chakra and energy. But at the same time, it can act as a lucky charm attracting good fortune in your life. 
Ruby Fuchsite bracelet
[content-egg module=Amazon template=custom/image product="us-B01IEUZJMQ"]
Healing Ruby Fuchsite stretchy bracelet. Found it here. 
Wearing a Ruby Fuchsite bracelet can help you heal your heart and root chakra. And this bracelet is a unique accessory made from interestingly colored stones.
Indeed, each bead featured might be different, but having this bracelet on your wrist while working or socializing can instill trust and awareness. It is a powerful bracelet, which might help you restore inner balance and health.
Ruby Fuchsite ring
[content-egg module=Amazon template=custom/image product="us-B07Z5HCX1G"]
Natural Fuchsite silver ring. Found it here. 
This sterling silver ring with a large Ruby Fuchsite stone is a true collectible item. It features natural, medium green, and red crystals. Those have a direct impact on the crown chakra, but it might help you heal your heart chakra, too. This Ruby Fuchsite ring can be your ally during your meditation practice, as it might aid you in increasing your body's energy field. 
Thanks for the blog graphics: Canva.com

Disclosure: At Buddhatooth.com we only mention the products that we've researched and considered worthy. But it's important to note that we are a participant of several affiliate programs, including but not limited to VigLink and Amazon Services LLC Associates Program, an affiliate advertising program designed to provide a mean for us to earn fees by linking to Amazon.com and affiliated sites. As an Amazon Associate Buddhatooth.com earns from qualifying purchases.