Peridot Birthstone: Gem of the Sun, Warmth, and Openness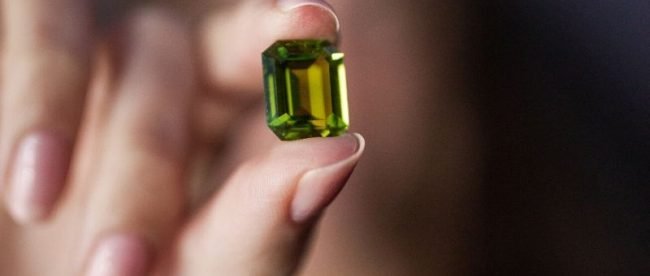 The Peridot is a semi-precious gemstone that runs between brownish green to yellowish-green to bright green in color. Often referred to as the "gem of the sun," it was once believed that this stone could only be mined at night because it would be so difficult to see in the daylight.

Are you interested in a particular topic about peridot birthstone? Then use the table of contents below to jump to the most relevant section. And you can always go back by clicking on the black arrow in the right bottom corner of the page. Also, please note that some of the links in this article may be affiliate links. For more details, check the Disclosure section at the bottom of the page. 
What is Peridot?
Peridot is a magnesium-rich variety of Olivine that has been mined since at least 1500 BC. The Peridot has often been compared to the Emerald. And in some cases have actually been mistaken for the more precious gemstone.

Where is Peridot found?
Peridot can be found in various places around the world, including Egypt and the Red Sea. It is also found in Burma (Myanmar), Australia, China, Brazil, and Arizona in the United States.

Peridot birthstone facts
Known for its lime green color, Peridot is often considered to be a minor gemstone. However, this stone was once thought to be a prized gem by ancient Egyptians. Historically, the Peridot has been confused with both the Emerald and the Topaz.
The stone was a favorite of Cleopatra and has been mined across the world. It was mentioned in the ancient text and came in various shades of green. One of the largest Peridot stones, a 46.16 Karat, is in the Smithsonian National Museum of Natural History. 

Peridot birthstone month and signs
The Peridot is the birthstone for August and one of the birthstones for October. Because both Virgo and Leo fall partly in August, this stone is also the birthstone for these two signs. As well as being a talisman stone for the astrological sign of Leo.

Peridot birthstone meaning
As a birthstone, Peridot is often referred to as the stone of love, warmth, and openness. It is also believed to provide cooling energy that grounds emotions and helps people control their temper. The Peridot is believed to have healing powers and to ward off evil spirits.

Peridot healing properties
The Peridot is believed to have many healing properties, including enhances protection for those the stone offers its power to. It is also said to help balance the mind, body, and spirit and boost personal power, self-confidence, and inner strength.
The Peridot is also thought to neutralize toxins, alleviate feelings of jealousy, resentment, bitterness, and greed.
Physically it is believed that Peridot strengthens the immune system and metabolism and benefit the skin. It is also used to help heal heart disorders, as well as problems with the lungs, intestinal tract, and ulcers.

Virgo and Peridot birthstone
Peridot, as the birthstone for Virgo, is believed to increase happiness and energy. When worn next to the heart, it is thought that the Peridot draws love to the wearer. It is also believed that this stone helps the Virgo stay connected to nature.
This stone is said to have the ability to open new spiritual horizons and bring prosperity and health. It also is thought to bring clarity to the mind and aid those who need to think scientifically.

Check our guide for more Virgo birthstones.

Leo and its birthstone Peridot
Peridot is considered to be the zodiac birthstone for Leo. It is believed that this stone protects Leo against the dangers of the night. It is also thought to help Leo achieve wisdom and understanding, as well as help, bring a sense of humility, nurturing, and caring traits.
The Peridot is also believed to help Leos prosper both in their careers and personal life. 
Check our guide for more Leo birthstones.

Peridot birthstone jewelry
Peridot birthstone necklace
This gorgeous Peridot necklace measures 34 inches, which makes it long enough to wear it as a single string of beads or layer it for a completely different look.
This is such a fantastic birthstone for those trying to manifest wealth and abundance. But it also is known as a stone of love and openness. Virgo and Leo, don't miss out on this piece. 
Check more reviews here and in case you think you might benefit from it, don't forget to take advantage of the code BUDDHATOOTH for the nifty 30% discount.
Peridot birthstone rings
[content-egg module=Amazon template=item product="us-B071WM2M55″ disable_features=1 ]
Amazing silver ring. Small enough to wear it comfortably every day. But with all those Celtic knots, it also designed in a way that will get you noticed. It's crafted beautifully and made to last.
And of course, it features the precious Peridot, the stone of warmth, prosperity, and well-being. So if you are looking for a beautiful and subtle way to remind yourself how awesome your life is (no matter what) – you might want to consider this ring seriously. 


Peridot birthstone bracelet
[content-egg module=Amazon template=item product="us-B00F2V5R6E" disable_features=1 ]
The designer created this bracelet calls it "cloud forest." Because the stones used in this unique handcrafted piece are resembling the fresh and thick crown of leaves and branches of vibrant jungles.
The bracelet is a part of Novica brand, created by National Geographic.
This company is on a quest to find the most talented designers in remote countries all around the globe and make sure that their creations will be available to the general public.
The bracelet is woven by hand from silk strands and features, green and white pearls and peridot beads. Stunning and delicate. A perfect way to include this birthstone in your life. 
Peridot birthstone earrings
[content-egg module=Amazon template=item product="us-B072R467N3″ disable_features=1 ]
Those gorgeous handcrafted silver earrings are inspired by ancient Celtic designs. The pair features oval-cut real peridots with a total weight of 0.97 carats. 
Not too heavy and built to last even if you are going to wear it daily. The stones are just about the perfect size, elegant, and catching the light beautifully.
Each earring is about an inch long. So you will get noticed, but attention won't be overwhelming. Great birthstone piece. 
Thanks for the blog graphics: Canva.com

Disclosure: At Buddhatooth.com we only mention the products that we've researched and considered worthy. But it's important to note that we are a participant of several affiliate programs, including but not limited to VigLink and Amazon Services LLC Associates Program, an affiliate advertising program designed to provide a mean for us to earn fees by linking to Amazon.com and affiliated sites. As an Amazon Associate Buddhatooth.com earns from qualifying purchases.