The Truth About the Unknown Properties of Citrine Birthstone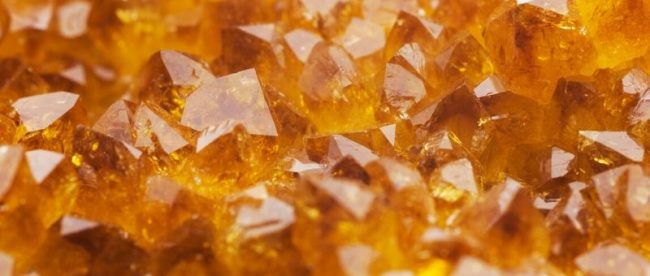 Sparkles like the sun, the bright yellow color of the gemstone Citrine is sure to bring a smile to your heart and face. Considered a minor gemstone, the Citrine has increased in popularity over the last decade or so.
Are you interested in a particular topic about this birthstone? Then use the table of contents below to jump to the most relevant section. And you can always go back by clicking on the black arrow in the right bottom corner of the page. Also, please note that some of the links in this article may be affiliate links. For more details, check the Disclosure section at the bottom of the page. 
What is Citrine?
Citrine is a type of quartz gemstone closely related to the Amethyst. Name for the citron fruit, the color of this stone may be yellow, greenish-yellow, brownish-yellow, or orange. The bright orange color stone is the most prized of this gemstone.

Where is Citrine found?
Citrine is found in various places throughout the world, including Brazil, Bolivia, Spain, the Ural Mountains in Russia, Dauphine, France, Madagascar, and parts of the United States.

Citrine birthstone month and sign
Citrine if one of the birthstones for November. It is also the astrological birthstone for Scorpio (October 23 to November 21) and Sagittarius (November 22-December 21). Also, it is considered the ascendant crystal for the astrological sign Leo.

Citrine birthstone meaning
[content-egg module=Amazon template=custom/image product="us-B01N00ZV39″]
It is believed that Citrine carries the power of the sun. It is said that this stone will overcome negativity with positive energy, protects against harms, and eases quarrels. It is a stone of happiness.


Citrine metaphysical properties
It is thought that Citrine has healing properties that will help heal the body mind and spirit. As a stone of the sun, Citrine is believed to help energize you, and provide you with the ability to be happy and productive.
It is said that this stone will help you with mediation, helping you to focus inward while you meditate. It is said that this stone can help strengthen your mental process. And help you achieve your goals while increasing your personal powers and helping to build your self-confidence.
It is believed to help ward off negative thoughts and influences with its positive energy.

Citrine healing properties
[content-egg module=Amazon template=custom/image product="us-B00FMZC05Q"]
It is also believed that Citrine can provide many healing properties for the body, helping to enhance circulation, aiding those with kidney, liver, and blood circulation problems.
It is also thought to help increase metabolism, helping improve digestion, and achieve healthier skin and hair and a more youthful appearance.

Scorpio and its birthstone Citrine
Citrine brings to the Scorpio warm and comforting energy, which helps to clear the mind and awaken the imagination and creativity.
The stone is believed to help Scorpio prosper and maintain their wealth. When placed in a purse or wallet, it is thought that this stone may help prevent foolish spending while at the same time encouraging generosity.
It is believed that when worn on your person, this gemstone can help improve your communication with bankers, salespeople, merchants, and even the media. It also will help you improve your productivity.
It is further believed that Citrine can help the Scorpio improve their metabolism and balance their thyroid. It is said that the Citrine can help Scorpio with allergies and skin and hair problems.

Sagittarius and Citrine birthstone
It is believed that the Citrine birthstone for those Sagittarius born in November will provide the Sagittarius with an abundance of vitality and promote good health.
It can also help the Sagittarius generate wealth and prosperity and bring the Sagittarius to enlightenment, optimism, and clarity while providing them with a warm, happy feeling.

Leo and Citrine influence as a birthstone
As an ascendant crystal for Leo, Citrine can accent the warm and generous aspects of Leo's personality. It is believed that this gemstone will open this sign to new experiences and magnifies the joy in their life by helping them maintain a positive attitude. It is said that when Leo holds a Citrine, they can remain calm.

Citrine birthstone jewelry
Citrine birthstone necklace
[content-egg module=Amazon template=item product="us-B01NCW11IV" disable_features=1 ]
This gorgeous necklace is coming from a very responsible company called ZenergyGems. They are always taking care of their gem's quality.
So you can be sure these crystals are real, and even cleansed and charged, radiating beautiful and calming energy.
The necklace is shiny and cold to touch. It's a real deal. And it also comes with a complimentary Selenite crystal for you to clean the necklace from all the energy it absorbs while in use. 

Citrine birthstone ring
[content-egg module=Amazon template=item product="us-B00GY9ZMKE" disable_features=1 ]
This timeless, skillfully crafted silver ring features large Citrine (2.5 carats) and two small (0.01) white topazes. The birthstone might be a bit large, and the piece could be borderline tacky if it won't be so elegant at the same time.
It's sparkly and attracts a lot of well-deserved compliments. It won't break the bank too. And most importantly, it will bring you the cheerful and happy Citrine's energy to brighten any day you are wearing the ring. 
Citrine birthstone earrings
[content-egg module=Amazon template=item product="us-B00GMEUNZK" disable_features=1 ]
These gorgeous, eye-catching earrings feature the large natural citrines – approximately 1-inch length each. The pair's design is simple, yet thanks to the quality, size, and shape of the stones, those won't be left unnoticed.
And of course, you've got to enjoy Citrine's powerful energy, that boosts creativity and happiness and will help the owner to manifest all (even the wildest) dreams. 

Citrine bracelet 
[content-egg module=Amazon template=item product="us-B073RY91BD" disable_features=1 ]
This pretty bracelet is perfect to wear as it is or combined with another crystal string bracelet for an extra crystal's power. Those are also very comfortable to wear for both men and women and pretty much perfect for wrists from 6 to 7 inches.  And it also features one of the most powerful symbols known to attract wealth – dragon called Pixiu. (I wrote the full guide about Pixiu in case you are interested to learn more).
And of course, the owner got to enjoy all the benefits this birthstone has to offer. So, attention Sagittarius, Scorpio, Leo! If you are looking for some mental clarity and guidelines for achieving your goals, the citrine bracelet might be exactly what you need.
Thanks for the blog graphics: Canva.com

Disclosure: At Buddhatooth.com we only mention the products that we've researched and considered worthy. But it's important to note that we are a participant of several affiliate programs, including but not limited to VigLink and Amazon Services LLC Associates Program, an affiliate advertising program designed to provide a mean for us to earn fees by linking to Amazon.com and affiliated sites. As an Amazon Associate Buddhatooth.com earns from qualifying purchases.