Pearl Birthstone: the Best Vibrations for Cancer and Gemini
Known for its luster, the Pearl is a solid-colored gemstone that commonly comes in white, blue-gray, or cream. But may also occur in other colors like pink, black, green, chocolate, blue, or lavender.

Are you interested in a particular topic about Pearl birthstone? Then use the table of contents below to jump to the most relevant section. 
And you can always go back by clicking on the black arrow in the right bottom corner of the page. Also, please note that some of the links in this article may be affiliate links. For more details, check the Disclosure section at the bottom of the page. 
What is Pearl?
[content-egg module=Amazon template=custom/image product="us-B00W9OMKLM"]
Gorgeous cultured Pearl ring from Amazon
A Pearl is a hard, lustrous spherical stone-like substance that is typically white or blue-gray. And it is formed when an irritant gets inside a shell of a Pearl oyster or another bivalve mollusk. The Pearl is esteemed as a gemstone.


Where is Pearl found?
Natural Pearls are found in the Indian Ocean off Australia, and in freshwater sources like lakes and rivers In Russia, Europe, and North America. Farmed Pearls are made all over the world.

Is Pearl a birthstone?
Pearls are often given as wedding gifts, they are the anniversary stone for both the 3rd and 30th anniversary as well as a popular communion gift for young girls. It is also the birthstone.


Pearl and numerology
In numerology, it is believed that those born on the 2nd, 11th, 20th, and 29th of the birthstone month will find these dates to be lucky for them. You can check more about it in our guide, "Birthstones by Date of Birth." 


Pearl birthstone month and sign
Pearls are the birthstones for June, which also makes it the astrological stone for Gemini (May 21-June 21) and Cancer (6-22-7-22).

Pearl birthstone meaning
[content-egg module=Amazon template=custom/image product="us-B00LLIV2L6″]
Stunning freshwater cultured pearls earrings from Amazon
The birthstone meaning of the Pearl is "sweet simplicity," and it is believed that this gemstone stands for purity, humility, and innocence.
It is thought that Pearl protects the wearer from evil and brings them good fortune.
Also, it is believed that Pearls can cool and soothe the owner's emotions.
When worn or carried, it is also said that the Pearl spreads loving vibrations, helps to cut through any negativity, and promotes mental stability and happiness.


Pearl healing properties
Pearl is believed to provide a good number of healing properties. It is thought that Pearl can help treat heart problems as well as issues with the kidneys.
It is also believed that Pearl can help people with lung disease, asthma, chronic bronchitis, and other respiratory conditions.


Cancer and its birthstone Pearl
As an astrological birthstone for Cancers born in June, the Pearl promotes wisdom and sincerity.
It is believed that particularly in the case of Cancer, the Pearl strengthens married relationships and protects children and helps the Cancer achieve contentment, as they grow older.

The Pearl also is believed to help Cancer embrace their creativity and imagination and to trust their instincts more. It is even thought that Pearl can help the Cancer turn their wishful thinking into action to achieve their goals.

Gemini and Pearl birthstone
The Pearl as a birthstone for Gemini symbolizes the duality of Gemini. It represents joy and sorrow, life and death, and health and sickness.
It is believed that Pearl brings Gemini good fortune and confidence. It is said that Pearl brings Gemini positive energy and helps remove any negative energy.
The Pearl enlightens the mind, stimulates the mood, and helps the Gemini to love themselves and help them in loving others.
When worn by the Gemini born in June, this birthstone is believed to enhance the inherent positive qualities that the Gemini possesses, helping them to achieve a better outcome in life. 

Pearl birthstone jewelry
Pearl birthstone ring
[content-egg module=Amazon template=item product="us-B00W9OMKLM" disable_features=1 ]
This prettiest platinum-plated little ring features a button-shape freshwater pearl and cubic zirconia (those look just like real diamonds!). Excellent quality, great sparkle! It also comes with a soft cloth to polish the Pearl. Absolutely beautiful with a price point much below what it's worth.

Pearl birthstone necklace
[content-egg module=Viglink products="93222175461b054d241c9d2d029d2152″ template=custom/image]
Gorgeous pearl set from Macy's
Oh, this gorgeous pearl set… It includes a magnificent necklace, bracelet, and earrings. All of the excellent quality, all look amazing, and you can't beat the price.
The Pearls are very lustrous and sized evenly. Exquisite simplicity with all the benefits of the pearl birthstone, including the ability to bring luck and boost confidence. 

Pearl birthstone earrings
[content-egg module=Amazon template=item product="us-B008N1O4H8″ disable_features=1 ]
These birthstone earrings feature white Akoya Pearls that sometimes referred to as the "icon" of cultured Pearls. These are AA+ quality, soft creamy-white with a very high sheen and luster. The pair is flawlessly beautiful and overall great value for money. And even comes with a certificate of authenticity.
Pearl birthstone bracelet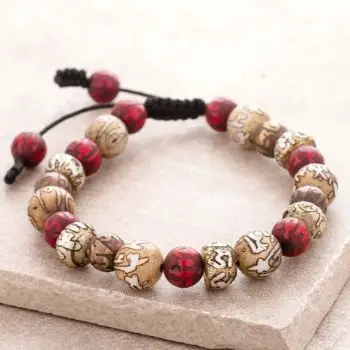 One of my favorite pieces from the Sivana shop. They found those Tibetan bracelets somewhere in the depths of the Himalayan Mountains.
And made it available to anyone interested in possessing a super powerful and healing piece of jewelry. The bracelet is built of Pearls, brass, and coral beads.
Each bead highlights Om Mani Padme Hum – the universal mantra. It has many definitions in many beliefs (e.g., in Buddhism its accurate translation means "O, you who have the jewel and the lotus").
Each syllable is said to have a healing influence on the body and mind. A combination of Pearls, brass, and Coral, has been used as a healing talisman by native Tibetans since ancient times.
Each bracelet was handcrafted and blessed by Hermits, who live in isolation in the Himalayan Mountains. 
Pearl beads of the bracelet are believed to enhance personal integrity and clear the wearer's mind. So that it can be easier to find the path to spiritual growth and overall happiness.
An excellent gift for all Gemini and Cancer out there. 
This bracelet is available at Sivana, an awesome spiritual gear store. And the founders were super nice to offer a 30% discount to my readers. To activate the offer you can use the code BUDDHATOOTH at the checkout.
Thanks for the blog graphics: Canva.com

Disclosure: At Buddhatooth.com we only mention the products that we've researched and considered worthy. But it's important to note that we are a participant of several affiliate programs, including but not limited to VigLink and Amazon Services LLC Associates Program, an affiliate advertising program designed to provide a mean for us to earn fees by linking to Amazon.com and affiliated sites. As an Amazon Associate Buddhatooth.com earns from qualifying purchases.