Coral Birthstone: Here's What Vedic Astrology and Numerology Have to Say about It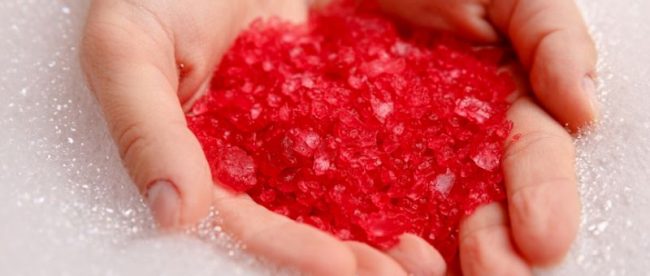 Natural Coral comes is aquatic and comes in a variety of colors, including red, orange, pink, blue, white, and black. Divers all over the world will often travel to exotic places to view Coral beds due to their beauty. Coral has also been harvested and used in various jewelry, including necklaces, bracelets, rings, and earrings.

Do you have a specific interest about ..? Then use the table of contents below to jump to the most relevant section. And you can always go back by clicking on the black arrow in the right bottom corner of the page. Also, please note that some of the links in this article may be affiliate links. For more details, check the Disclosure section at the bottom of the page. 
What is Coral?
Coral has been defined as a hard stony like substance that is secreted by certain marine coelenterates as external skeletons that generally form in large groups in warm seas.


Is Coral a birthstone at all?
Western astrology does not consider Coral to be a birthstone at all. However, according to Vedic astrology, red Coral is connected to planet mars. Although not considered a traditional birthstone or zodiac stones, red Coral has been associated with several months and zodiac signs.
Coral beads from Amazon
Red Coral also has a significant influence as a birthstone, according to numerology. Coral's lucky birthstone dates are considered to be the 9th, 18th, and 27th. You can check more about it in our guide, "Birthstones by Date of Birth." 

What month is Coral the birthstone for?
Coral does not seem to be a birthstone for any specific month. However, it has been associated with January, February, and March.
It has also been associated with several zodiac signs, according to Vedic astrology. These astrological signs include Libra, Pisces, Capricorn, Scorpio, Taurus, and Aquarius.
Although this stone has been associated with a variety of zodiac signs, not every zodiac sign that Coral is associated with should wear this sign.


Vedic birthstone Coral meaning
The Vedic birthstone Coral meaning is based on both the properties of Coral itself. As well as a nod to where Coral comes from. In Vedic astrology, Coral represents the ability to bring beauty out of ugliness. This stone reminds you to embrace the future, but to remember that some of your past will always remain with you making you who you are.
It is a stone said to affect inner changes and protect all of those traveling from water.


Coral Healing Properties
Although it is not advisable for every sign that is associated with Coral to wear this stone, it does provide several healing properties to those who can benefit from this stone. Coral is believed to absorb negative energy and help promote both platonic and romantic love. It is said to quiet emotions, facilitates imagination.
Physically it is believed that Coral helps to strengthen the circulatory system and bones. It also is said to stimulate the regeneration of tissues.
Connected to the base Chakra Coral helps give the energy to personal and business pursuits, and it also is believed to protect from depression.


Capricorn and it's birthstone Coral
Although Coral is associated as a birthstone for Capricorn, it should only be worn for short periods of time until you see whether the stone proves to be helpful to you.



Coral and Aquarius
Aquarius is one of the Zodiac signs that can wear this stone and enjoy many of its benefits. It is believed that Coral can help the Aquarius gain self-confidence that will vastly help them in their profession. It is thought that the Coral can help treat Aquarius not only suffering from ailments concerning blood circulation but also with acne and other skin conditions.


Coral and it's meaning as a birthstone for Pisces
Coral is a highly beneficial stone for Pisces as it is considered to bring them good luck and wealth. It is also believed to help them in their relationships with family members and bring them to victory over their enemies.
It is said that Coral has a significant impact on Pisces' mood, helping them overcome negativity and apathy as well as fear. 

Coral jewelry
Coral earrings
[content-egg module=Amazon template=item product="us-B07RRJ7LLD" disable_features=1 ]
These gorgeous sponge Coral earrings are handmade of durable and tarnish resistant sterling silver. Since the sponge version of Coral is used, the pair is practically featherweight. And even though the price of the earrings is suspiciously low, the pair look very expensive and work both for everyday use and for special occasions too. 
Coral birthstone ring
[content-egg module=Amazon template=item product="us-B075ZC96M3″ disable_features=1 ]
This ring is stunning. It's well-made and very comfortable to wear. It's made by eco-conscious US-based designers called American West Jewelry. The unique design, the quality of the stone, and the craftsmanship are just perfect. If you want something that stands out along with all the benefits of coral birthstone, you should seriously consider this piece.
Coral bracelet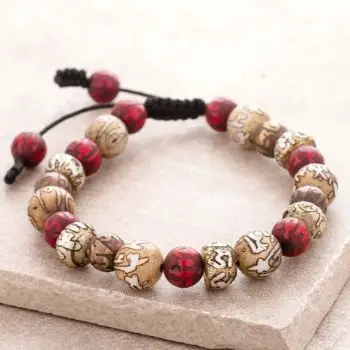 One of my favorite items from spiritual store Sivana. They brought those Tibetan healing bracelets from the depths of the Himalayan Mountains. The bracelet is made of pearls, corals, and brass.
Each bead features carved universal mantra – Om Mani Padme Hum. It has many meanings in many religions (e.g., in Buddhism its literal translation means "O, you who have the jewel and the lotus").
Each syllable of the mantra is said to have a healing effect on one's body and mind. A combination of Coral, brass, and pearls has been used as a healing amulet by native Tibetans for many centuries. 
The bracelets are handmade and blessed by Hermits, who live in solitude, meditating in the Himalayan Mountains. Beautiful item with the beautiful meaning and with all the gifts that coral birthstone has to offer.
Coral Beads are believed to soothe owners' emotions and promote intuition and imagination. And that just one of the numerous Coral's benefits. 

This bracelet is available at Sivana, an awesome spiritual gear store. You can browse around for more reviews.
And the founders were super nice to offer a 30% discount to my readers. To activate the offer you can use the code BUDDHATOOTH at the checkout.
Thanks for the blog graphics: Canva.com

Disclosure: At Buddhatooth.com we only mention the products that we've researched and considered worthy. But it's important to note that we are a participant of several affiliate programs, including but not limited to VigLink and Amazon Services LLC Associates Program, an affiliate advertising program designed to provide a mean for us to earn fees by linking to Amazon.com and affiliated sites. As an Amazon Associate Buddhatooth.com earns from qualifying purchases.