Tanzanite Birthstone: What Can This "Geological Phenomenon" Bring to the Table?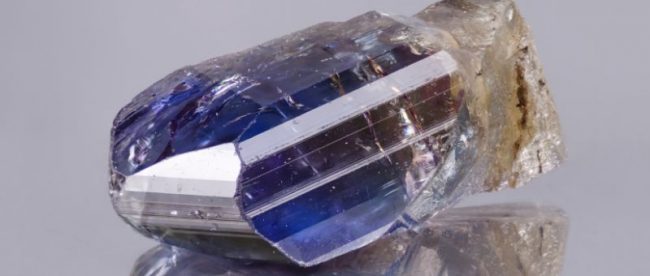 What is Tanzanite?
 Tanzanite is the violet and blue variation of mineral Zoisite, which occurs naturally in different varieties. It is a rare blue precious stone that usually served as an alternative to blue Sapphire. Now, Tanzanite has its own reputation as a gemstone. Its value as a gemstone is mostly because of its rich, vibrant colors and its clarity.
Sometimes it's also called a "geological phenomenon" since this crystal is a thousand times rarer than diamonds.

Are you interested in a particular topic about this birthstone? Then use the table of contents below to jump to the most relevant section. And you can always go back by clicking on the black arrow in the right bottom corner of the page. Also, please note that some of the links in this article may be affiliate links. For more details, check the Disclosure section at the bottom of the page. 
Where does Tanzanite come from? 
Tanzanite is found in the Merelani Hills of Tanzania. The name Tanzanite is derived from the origin of the blue Zoisite mineral, Tanzania. The name was derived by Tiffany and Co, who thought that the name "Tanzanite" was more commercially viable than the name "Blue Zoisite."
Tanzania is the only place in the world where Tanzanite can be found naturally. 


What color is Tanzanite stone?
The Tanzanite stone occurs as violet, blue, yellow, or brown. Tanzanite exhibits a gemstone characteristic known as pleochroism. This is the ability of a gemstone to display different colors when viewed from different angles. The naturally occurring blue color Tanzanite is rare. The brown and yellow stones have to be heated to produce the highly coveted blue color.

What birthstone is Tanzanite? 
Although officially made a birthstone for December, the different hues of Tanzanite are perfect as natural birthstones for many months. The official sign will be Capricorn and Sagittarius, but Aries and Pisces also enjoy massive benefits from Tanzanite.


What is Tanzanite birthstone meaning?
The Masai tribe, home of Tanzanite have always believed that Tanzanite can bring good health and long life to a newborn baby. This is why women are giving the precious blue gem to wear around their neck during childbirth.
Tanzanite, as a birthstone, brings soothing peace to the wearer. It also helps their communication as that is one of the spiritual characteristics of the stone.


Tanzanite spiritual meaning
The blue and violet colors of Tanzanite portrays it as a soothing gemstone. The spiritual meaning of the stone is rooted in its pleochroism. Tanzanite is associated with the enlightenment of the mind.
It also helps in opening a pathway between the mind and the heart. Due to its colors, it is also associated with awakening. Tanzanite fosters compassion and kindness while helping the wearer find enlightenment. 


Tanzanite healing properties
The spiritual healing properties of Tanzanite is in its ability to foster a connection with spirit guides and the higher realm.
Physically, Tanzanite is known to help with blood detoxification, increase in vitality, and building of the immune system. People with migraines, headaches, and even addiction believed to benefit from using Tanzanite significantly. 


Sagittarius and Tanzanite
People born between November 22nd and December 21st fall under the Sagittarius zodiac sign. As Tanzanite is officially one of the birthstones for December, Sagittarius can also have Tanzanite as a natural birthstone.
A Sagittarius will find Tanzanite to be a great healing birthstone that boosts spiritual growth and also enhances psychic abilities. Check more gems for this sign in our guide about Sagittarius birthstones. 


Tanzanite birthstone and Capricorn
The Capricorn sign is for persons born between December 22nd and January 19th. The Violet Tanzanite is the perfect birthstone for people born under Capricorn. Tanzanite, as a birthstone, is the most potent natural birthstone for Capricorn.
A Capricorn wearing Tanzanite is led to explore higher expressions of themselves and accomplish greatness. Check more gems for this sign in our guide about Capricorn birthstones. 

Tanzanite jewelry 
Tanzanite bracelet 
[content-egg module=Amazon template=item product="us-B07PXMT2C4″ disable_features=1 ]
This extra comfortable to wear elastic bracelet features genuine Tanzanite. It works both for women and men. And it's stretchiness makes it ideal for wearing for wrists from 6.6 inches to 7.5 inches.
It comes with the additional beads and strings in case you might ever have to use it. And, of course, all the birthstone's qualities are included too. Tanzanite, sometimes referred to as a stone of transformation, will bring additional protection into your life and help with meditation and growth.

Tanzanite birthstone ring
[content-egg module=Amazon template=item product="us-B017MQ8L3C" disable_features=1 ]
This elegant ring features stunning oval Tanzanite (0.23*0.15 inches) and small round white zircons. It looks very posh and durable. Shines brightly. And can be especially perfect for Capricorns and Sagittarius born in December since they share both Tanzanite and Zircon as the birthstones. 
Tanzanite birthstone necklace
[content-egg module=Amazon template=item product="us-B076L2LCGP" disable_features=1 ]
This silver 18-inch necklace comes with 0.75ct terrific quality Blue Tanzanite pendant. The stones are sparkly lavender. And the whole tree of life look of the piece elevates its meaning and makes it a great conversation starter.
All Tanzanite properties are included, so prepare to manifest any desires quicker and feel more powerful while you are pursuing those.  

Thanks for the blog graphics: Canva.com

Disclosure: At Buddhatooth.com we only mention the products that we've researched and considered worthy. But it's important to note that we are a participant of several affiliate programs, including but not limited to VigLink and Amazon Services LLC Associates Program, an affiliate advertising program designed to provide a mean for us to earn fees by linking to Amazon.com and affiliated sites. As an Amazon Associate Buddhatooth.com earns from qualifying purchases.