Blue Sapphire Birthstone: Strong Bonds, Focus, Clarity, and Other Gem's Gifts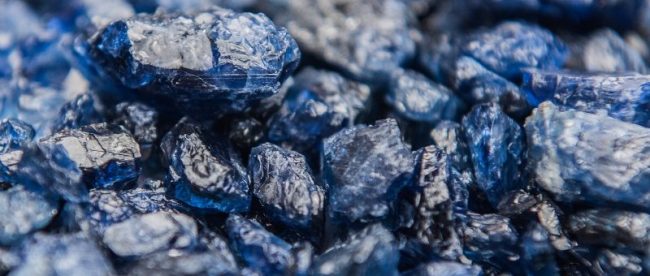 Blue Sapphires are considered one of the four most expensive stones in the world, with the very best of these stones being mined in Sri Lanka, Kashmir, Madagascar, and Myanmar. These beautiful but powerful gems have long been held in high esteem for generations.
Do you have a specific interest about spiritual meaning of manifestation? Then use the table of contents below to jump to the most relevant section. And you can always go back by clicking on the black arrow in the right bottom corner of the page. Also, please note that some of the links in this article may be affiliate links. For more details, check the Disclosure section at the bottom of the page. 
What is a Blue Sapphire?
Only one of two varieties of corundum, the sapphire, comes in several colors, with the Blue Sapphire is the most sought after and prized. For a sapphire to be called "blue," any secondary colors must be 15% or less of the stone.

What Birthstone is Blue Sapphire?
The Blue Sapphire is the birthstone for September. And it's a planetary birthstone for several zodiac signs including Libra, Capricorn, Virgo, and Aquarius. Especially during times when Saturn's adverse effects are influencing these signs.
Blue Sapphire is a powerful stone for Libra. This is why it recommended that this zodiac sign only wears a medium stone if it's light blue or a tiny one in a bright blue shade.
The Blue Sapphire also has a powerful effect on Aquarius, Capricorn, and Virgo too. Helping them to improve some of their personality flaws. 

Blue Sapphire birthstone meaning
The Blue Sapphire is a stone known as the symbol of truth, loyalty, and fidelity. It believed to help improve focus and increase consciousness and awareness.
This stone also believed to help attract abundance and protect the owner from negative emotions.

Blue Sapphire healing properties
Some of the healing properties that ancient healers were attributing to the Blue Sapphire are help in releasing mental tension and even curing anxieties. Physically the Blue Sapphire believed to help those with blood disorders and throat issues. It also thought to balance the nervous system allowing you to feel calmer and more in control of any situation.

Blue Sapphire and its role for Libra
The Blue Sapphire is a mighty stone for Libra. This is why it recommended keeping the stone's size to a minimum or else choose a lighter colored gem. However, this crystal can help ground Libra and help them achieve better focus and self-discipline. It is beneficial for those seeking education and enlightenment.

Check more gems for this sign in our guide about Libra birthstones. 


Capricorn and Blue Sapphire
The Blue Sapphire is hugely beneficial to Capricorns since it believed to help those under this sign to boost their health, wealth, and social power. It helps Capricorn achieve maximum confidence and the positive energy of Saturn. Those with Saturn's positive energy will be patient and generous, intuitive, energetic, and trusted to achieve financial goals faster too. 
Check more gems for this sign in our guide about Capricorn birthstones. 


Aquarius and its birthstone Blue Sapphire
Aquarius receives much of the same benefits of the Blue Sapphire that Capricorn receives. They find this stone helps their personality shine through. It helps Aquarius gain confidence and endows them with energy. 
Check more gems for this sign in our guide about Aquarius birthstones.


Blue Sapphire as Virgo birthstone
When it comes to Virgo, the Blue Sapphire acts as a symbol of love, joy, truth, and generosity. It believed to help Virgo achieve purity of the soul and boosts their intuition. It also helps them to reach inner peace and contentment.
 And you can learn more about this sign in our guide dedicated to Virgo birthstones.  
Blue Sapphire jewelry
Blue Sapphire birthstone ring
[content-egg module=Amazon template=item product="us-B01NASAFQW" locale=US disable_features=1 ]
Absolutely epic ring. The cut is stunning, and the stone is gorgeous too. Even though the price is way lower than you might have expected to pay for a genuine Blue Sapphire, somehow, this silver ring manages to live up to any expectations.
This ring measures 5/8″ long by 3/4″ wide. And it's a real compliment stealer. The stone itself is not huge (about 0.25 ct – makes it perfect for Libras!), but it's real. Therefore it will add up all the birthstone's power to the table.
Would love to be more focused and strive for a more mindful living? This crystal believed to be a great help for both of these goals.  

Blue Sapphire earrings
[content-egg module=Amazon template=item product="us-B07G7J18P2″ locale=US disable_features=1 ]
Pretty perfect little earrings. The craftsmanship is exquisite. The price is more than affordable. And genuine Blue Sapphires featured in the pair are quite substantial – 1carat each. Great as everyday classic and good enough for those special occasions too. 
Blue Sapphire birthstone necklace
[content-egg module=Amazon template=item product="us-B07J2TB81L" locale=US disable_features=1 ]
This necklace is simple yet exquisite. This 14k White Gold pendant comes with 18″ chain. The stone itself is of deep blue color, and its total weight is 1.1 carats. 
Apart from the elegance that comes with this necklace, you will receive all the properties of the birthstone itself. Capricorn, Aquarius, and Virgo, in particular, might benefit greatly from all the gem's powers.
Blue Sapphires are believed to increase the owner's vision's clarity. It also trusted to improve and deepen the bonds between people. So sometimes the gem is also referred to as the gem of loyalty and fidelity.
Those are all wonderful gifts this beautiful birthstone has to offer to the owner. So, stronger relations and clear vision to cut through the noise… I'll take it! How about you? 
Thanks for the blog graphics: Canva.com

Disclosure: At Buddhatooth.com we only mention the products that we've researched and considered worthy. But it's important to note that we are a participant of several affiliate programs, including but not limited to VigLink and Amazon Services LLC Associates Program, an affiliate advertising program designed to provide a mean for us to earn fees by linking to Amazon.com and affiliated sites. As an Amazon Associate Buddhatooth.com earns from qualifying purchases.